Indoor
Malls track shoppers' cell phones on Black Friday - Nov. 22. Through this signage at Promenade Temecula, the mall is notifying shoppers that their phones may be tracked as they move throughout the premises.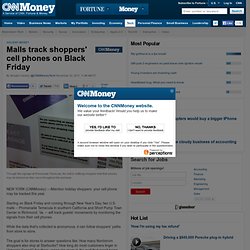 NEW YORK (CNNMoney) -- Attention holiday shoppers: your cell phone may be tracked this year. Starting on Black Friday and running through New Year's Day, two U.S. malls -- Promenade Temecula in southern California and Short Pump Town Center in Richmond, Va. -- will track guests' movements by monitoring the signals from their cell phones. Nokia tweaks Bluetooth for indoor navigation. Indoor LBS: Ericsson Indoor Maps and Positioning Platform. · Android Wi-Fi Positioning APIWith the Map Studio, you can createand design your own Indoor Maps The MapStudio enables you to create and design your own indoor maps and with the Android Map API, you can integrate those maps in your own application.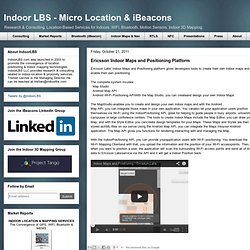 You canalso let your application users position themselves via Wi-Fi using the IndoorPositioning API, great for helping to guide people in busy airports, university campuses or large conference centers. The tools to create Indoor Maps include the Map Editor; you can draw your Map, and with the Style Editor, you cancreate design templates for your Maps. These Maps and Styles are then stored asXML-files on our server.Using the Android Map API, you can integrate the Maps intoyour Android application. Indoor location system having sensor and method for checking location using the same - Patent # 8049618. This application claims priority to an application entitled "INDOOR LOCATION SYSTEM HAVING SENSOR A-ND METHOD FOR CHECKING LOCATION USING THE SAME," filed in the Korean Intellectual Property Office on Nov. 13, 2007 and assigned Serial No.2007-0115265, the entire contents of which are incorporated herein by reference. 1.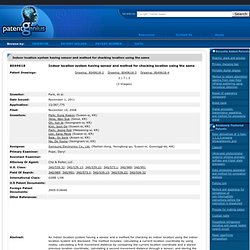 Field of the Invention. Indoor LBS: Indoor Location Services Market Report. Google launched indoor maps and indoor location and it is going global with it.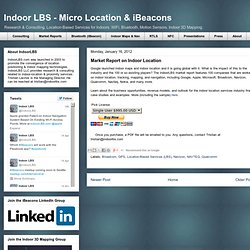 What is the impact of this to the industry and the 100 or so existing players? The IndoorLBS market report features 100 companies that are working on indoor location, tracking, mapping, and navigation, including Google, Apple, Microsoft, Broadcom, Navizon, Qualcomm, Navteq, Nokia, and many more. Learn about the business opportunities, revenue models, and outlook for the indoor location services industry from case studies and examples. More (including the sample) here. New app to improve wayfinding at Frankfurt Airport. Share By Future Travel Experience Frankfurt Airport's new app offers detailed maps to improve passenger wayfinding, as well as information on parking, retail and flight status updates.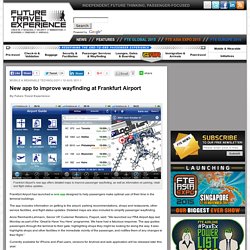 Frankfurt Airport has launched a new app designed to help passengers make optimal use of their time in the terminal buildings. The app includes information on getting to the airport, parking recommendations, shops and restaurants, other service facilities, and flight status updates. Detailed maps are also included to simplify passenger wayfinding. CPH Airport. Description CPH Airport is the official iPhone app of Copenhagen Airports.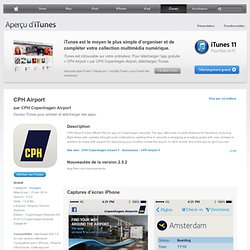 The app offers lots of useful features for travellers, including flight times with updates through push notifications, waiting time in security, a shopping and eating guide with user reviews in addition to maps with support for displaying your location inside the airport. In other words, this is the app to get if you are flying to or from Copenhagen. ...suite.
And Copenhagen Airport launch the world's first indoor augmented reality application. Date: 28 March 2011 Location: Copenhagen Copenhagen Airport, and air transport IT provider SITA, today announced that the world's first indoor augmented reality application will be available for passengers to use at the airport in the coming weeks.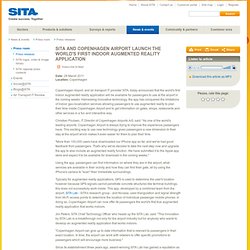 Harnessing innovative technology, the app has conquered the limitations of indoor geo-localization services allowing passengers to use augmented reality to plan their time inside Copenhagen Airport and to get information on gates, shops, restaurants and other services in a fun and interactive way. L'aéroport de Copenhague lance un guide en réalité augmentée | Europe. La particularité de cette application tient au fait qu'elle utilise les données de réalité augmentée en intérieur, alors que cette fonctionnalité est le plus souvent associée aux signaux GPS extérieurs.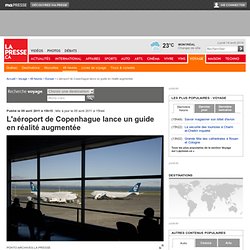 Elle permet donc à l'utilisateur de visualiser sur son téléphone, les informations sur les magasins, services et autres restaurants de l'aéroport, grâce à l'incrustation de données 3D sur son écran. Cette fonctionnalité permet aussi aux passagers de trouver facilement la direction de leur porte d'embarquement. Montée en puissance de la géolocalisation à l'intérieur des bâtiments. Navizon. Navizon provides Wi-Fi tags to track people and assets with Navizon I.T.S.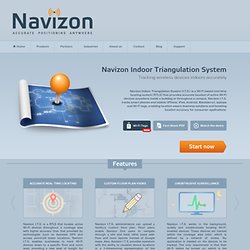 Wristband Tags are very rugged and waterproof. They issue alerts if the wristband loop is broken or when the battery is low. Compact These tags have a push-button that, when pressed, sends a signal that may be turned into an alert. They have vibration sensors to indicate when the tag is in motion, and can issue low-battery alerts. What they are Wi-Fi tags consist of a radio transmitter and battery housed in a durable enclosure. Navizon Unveils Indoor Positioning Technology. The Airport App of My Dreams. Every now and then Spafax editorial director and pro jet-setter Arjun Basu fills us in on the flightgeist.
As the holiday travel season winds down, he wonders why there aren't any great mobile applications for airports. So what does your dream airport app look like? ©istockphoto.com/Simon Oxley There are no apps I want to use in an airport. As a frequent flyer – and a lover of my iPhone/iPad – this saddens me. Engagement Checkup: Airline iPhone Apps PART II - Lufthansa Navigator and other new applications. In this month's Engagement Checkup, we revisit the world of airline iPhone applications and find some exciting new trends. But why are so many brands still conspicuously absent from the app store?
Back in October we checked up on airline iPhone apps, and wondered why so few carriers had hopped on the app wagon. In the four months since – an eternity in Internet time – several airlines have taken their mobile efforts to the next level. The very first airline apps were so basic you'd expect them to be a no-brainer for any brand. They provided booking, flight information, flight tracking and mobile boarding passes, eliminating the need to dig through your luggage. Technologie - Absysseo. WirelessWERX. La geolocalisation utilisant la technologie RFID. Point Inside Inc.
Insiteo. Le positionnement et la navigation à l'intérieur – La prochaine frontière des services basés sur la géolocalisation ? - Articles. Géolocalisation indoor. Le salon du livre ouvre ses portes à Paris Porte de Versailles entre le 26 et le 31 mars 2010. Cette trentième édition sera l'occasion de découvrir ou de redécouvrir 90 auteurs français et étrangers de renom invités par les organisateurs. Plus de 1000 exposants sont attendus dans tous les secteurs de l'édition. LBS Indoors. IndoorLBS kicked off the event and got everyone excited about the great indoors – the new frontier in mapping and navigation. Tristian provided insights into the growth and the opportunity for programs such as advertising, affinity, asset and inventory management, and loyalty inside malls, retail stores, and airports.
Attendees learnt about the growing opportunity as consumers and businesses embrace a holistic experience to navigate and explore interior spaces. Wireless Communications Alliance LBS SIG in Silicon Valley, Qualcomm. Indoor LBS.
---