Woodgas / Gengas
About « Gasifier Experimenters Kit. GEK Wiki / How to Build and Run the GEK Gasifier. GEK Licensing Fabrication, Assembly, and Operating Manuals Below you will find all instructions for fabricating, assembling and running the GEK gasifier and Power Pallet.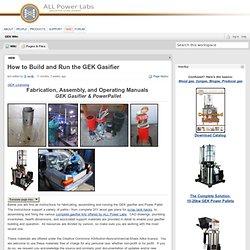 The instructions support a variety of paths-- from complete DIY wood gas plans for scrap tank hacks, to assembling and firing the various complete gasifier kits offered by ALL Power Labs. CAD drawings, plumbing inventories, hearth dimensions, and associated support materials are provided in detail to enable your gasifier building and operation. Wood Chips to Bio. Woodgas powered Unimog! The Gengas Page. With permisssion from: THE BIOMASS ENERGY FOUNDATION PRESS 1820 Smith Rd., Golden, CO 80401 by: H.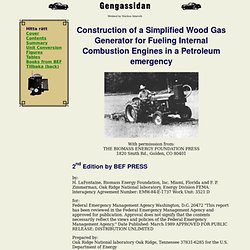 LaFontaine, Biomass Energy Foundation, lnc. Wood Gas: FEMA simplified wood gas generator in action.
---