Body
Questions Are the Answer. Questions Are the Answer Your health depends on good communication Asking questions and providing information to your doctor and other care providers can improve your care.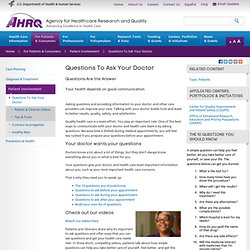 Talking with your doctor builds trust and leads to better results, quality, safety, and satisfaction. Quality health care is a team effort. Questions Are the Answer: Build Your Question List. Be prepared for your next medical appointment.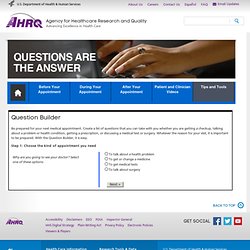 Create a list of questions that you can take with you whether you are getting a checkup, talking about a problem or health condition, getting a prescription, or discussing a medical test or surgery. Whatever the reason for your visit, it is important to be prepared. With the Question Builder, it is easy. Step 1: Choose the kind of appointment you need Why are you going to see your doctor? Artificial Anatomy | Body Parts. BBC Science | Human Body & Mind. DirectAnatomy, your online anatomy software.
Eskeletons. Home Page. Google Body - Google Labs.
---