Tools
Welcome to virtualdub.org! - virtualdub.org. Avidemux - Main Page. Avidemux is a free video editor designed for simple cutting, filtering and encoding tasks.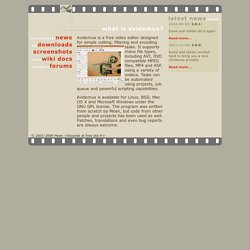 It supports many file types, including AVI, DVD compatible MPEG files, MP4 and ASF, using a variety of codecs. Tasks can be automated using projects, job queue and powerful scripting capabilities. Avidemux is available for Linux, BSD, Mac OS X and Microsoft Windows under the GNU GPL license. The program was written from scratch by Mean, but code from other people and projects has been used as well. Free Audio Editor and Recorder.
Money Manager Ex - CodeLathe. News Jan 19, 2014 - Version 1.0.0.1 released Dec 29, 2013 - Version 1.0.0.0 released May 17, 2012 - Version 0.9.9.0 released Aug 09, 2011 - Version 0.9.8.0 released Jan 24, 2011 - Version 0.9.7.0 released Jun 22, 2010 - Version 0.9.6.0 released Nov 06, 2009 - Version 0.9.5.1 released Mar 17, 2009 - Version 0.9.4.2 released Dec 30, 2008 - Version 0.9.4.1 released Dec 29, 2008 - Version 0.9.4.0 (Stable) released.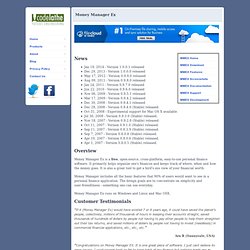 Oct 31, 2008 - Experimental support for Mac OS X available. VLC: Official site - Free multimedia solutions for all OS! InfraRecorder » Welcome. E-book management. Celtx - #1 Choice for Media Pre-Production. Download. Official files are being served from a site called SourceForge, so do not be alarmed when clicking on a download link brings you to a SourceForge download page.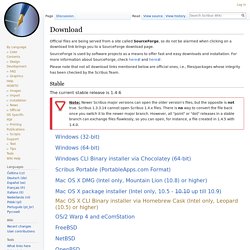 SourceForge is a highly-trusted site used by a large number of software projects as a means to offer fast and easy downloads and installation. For more information about SourceForge, check here and here. LyX | LyX – The Document Processor.
---