Innovative_Learning
Since I last published thoughts on how QR Codes could be used for learning in a short audioBoo (click the link or scan the QR Code on the right), there has continued to be a growing and significant buzz about QR Codes on Twitter and in the blogosphere. A narrative is developing as ideas, experiences and best practices are shared and discussed. The ball got rolling at TeachMeetX where Julian S.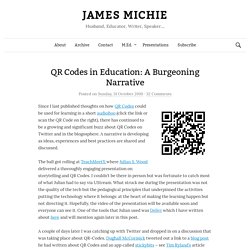 Learning Conversations - Web 2.0 and your own learning & development
It's been a while since my last post, mainly down to working on a couple of projects that have completely taken over. I was prompted to write this one, though, when the guys from Packt Publishing asked if I would review their latest book on Yammer. Packt Publishing have achieved a great reputation for putting out books just at the point when they are going to be needed by more than just the early adopters of a particular technology.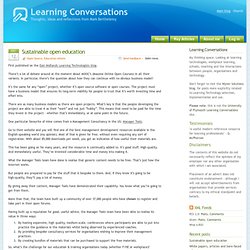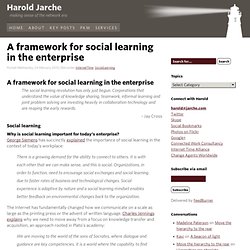 A framework for social learning in the enterpris
A framework for social learning in the enterprise The social learning revolution has only just begun. Corporations that understand the value of knowledge sharing, teamwork, informal learning and joint problem solving are investing heavily in collaboration technology and are reaping the early rewards. - Jay Cross
Boeiende bijdrage van Mohamed Amine Chatti. Hij positioneert de opvattingen van o.a. Etienne Wenger over situated learning binnen communities of practices tegenover Learning as a Network , waarbinnen volgens hem principes van connectivisme samen komen met double loop learning (LaaN; volgens mij zou Learning in a Network beter zijn). Volgens Chatti gaat Wenger er vanuit dat " engagement in social practice " (dus actieve participatie) essentieel is voor leren.
Andere leerstrategie bij leren in een netwerk - Wilfred Rubens: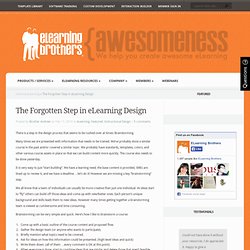 The Forgotten Step in eLearning Design - Brainstorming | eLearni
There is a step in the design process that seems to be rushed-over at times: Brainstorming. Many times we are presented with information that needs to be trained. We've probably done a similar course in the past and/or covered a similar topic. We probably have standards, templates, colors, and other various course assets in place so that we can build content more quickly. The course also needs to be done yesterday.
The State of Learning in the Workplace Today I first released the State of Learning in the Workplace Today on 1 January 2010 and regularly updated it through the year with new thinking, particularly that of my colleagues in the Internet Time Alliance. I then expanded it to form the first part of my Social Learning Handbook , which was published in mid-January 2011 (You can read a Synopsis here.) Since mid-April I have been continuing my look at the state of learning in the workplace today with some further thoughts ... Learning & Working in the Social Workplace Last updated: 04 June 2011 Part 1: The Social Workplace as a Learning Environment
The state of social learning
GILLY SALMON is Professor of E-learning and Learning Technologies at the University of Leicester, UK. PALITHA EDIRISINGHA is Lecturer in E-Learning at the Beyond Distance Research Alliance at the University of Leicester, UK. MATTHEW MOBBS is Learning Technologist at the University of Leicester, UK RICHARD MOBBS is Head of eLearning Advocacy at the University of Leicester, UK
E-moderating: the key to teaching ...
"text-align: center;"> In the near future, as the computer, the television, the telephone (and more) continues to converge, we will most likely enjoy even more powerful capabilities to conveniently create and share our content as well as participate in a — whether that be from within our homes and/or from within our schools, colleges, universities, businesses, and teaching "facilities" throughout the world. Perhaps we will be teachers and students at the same time — even within the same hour — with online-based learning exchanges taking place all over the virtual and physical world. Subject Matter Experts (SME's) — in the form of online-based tutors, instructors, teachers, professors, trainers, and other experts in the field — will be available on demand. Even more powerful/accurate/helpful learning engines will be involved behind the scenes in delivering up personalized, customized learning — available 24x7x365.
Future Learn | Tracking Innovation in Education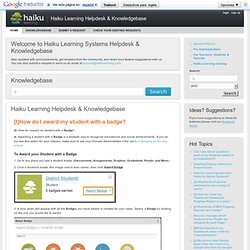 Emily Jeanes August 10, 2012 • For Teachers, Students & Parents / Embed the Web™ Q: Why doesn't some of my embedded content load in Chrome or Firefox? A: Haiku uses a secure connection (HTTPS), allowing for the safe passage of information from our servers to your computer.
Haiku Learning Systems Helpdesk & Knowledgebase
Downes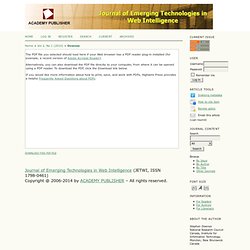 The PDF file you selected should load here if your Web browser has a PDF reader plug-in installed (for example, a recent version of Adobe Acrobat Reader). Alternatively, you can also download the PDF file directly to your computer, from where it can be opened using a PDF reader. To download the PDF, click the Download link below. If you would like more information about how to print, save, and work with PDFs, Highwire Press provides a helpful Frequently Asked Questions about PDFs.
Concise Learning
Wide Awake Minds
Interviewer: Ryan McCarl Featured self-educator: Alexander Arguelles, Ph.D. Self-educator's position: Language Specialist, Southeast Asian Ministers of Education Organization Date: 21 December 2010
Generation YES is a non-profit 501 (c)(3) with a mission to empower students and teachers to use technology to improve education in their own school. Our school-friendly online tools and innovative project-based curriculum build a learning community where students work alongside their teachers as technology leaders, collaborators and mentors. 15 years of research experience and proven scientific results show that when schools trust and collaborate with their students to integrate technology, academic success follows. We believe in Participatory Learning - where students and teachers work together to create optimal conditions for learning in every classroom; where students are agents of change, rather than objects of change. Generation YES - global mission, local results
A few weeks ago I offered some advice on how to become an elearning pro without spending a dime. The essence of that post is: You have access to a lot of free tips and tricks.
Here Are More Than 200 Free Rapid E-Learning Tutorials » The Rap
Gerry Stahl's website
Group Cognition Book Stahl, G. (2006). . Cambridge, MA: MIT Press.