Minecraft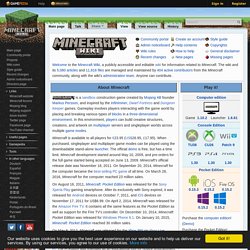 is a sandbox construction game, inspired by Infiniminer, Dwarf Fortress and Dungeon Keeper, created by Markus Persson, the founder of Mojang AB. The game involves players placing and breaking various types of blocks in a three-dimensional environment. The player takes on an avatar that can break and place blocks, forming fantastic structures, creations, and artwork, on multiplayer servers and singleplayer worlds across multiple game modes. Minecraft is available to all players for €19.95 (US$26.95, £17.95).
Minecraft Workbench - Download Minecraft Texture Packs Mods Skins
Well I had some plans to redo the site and get it going again but I hurt my back and have 3 herniated discs. I pretty much have just in pain awaiting surgery to correct it for over a year. I have some plans for the site to bring it up to speed for how much content and good stuff there is out there now.
MINECRAP «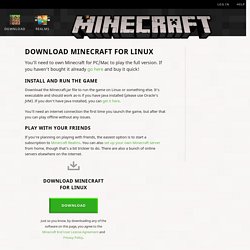 When you have bought the game, you can download the stand-alone launcher for Minecraft here. It will automatically update the game files with the latest version. You'll be able to play the game without an Internet connection if you've been online at least once. Minecraft for Windows
Minecraft is a game about breaking and placing blocks. At first, people built structures to protect against nocturnal monsters, but as the game grew players worked together to create wonderful, imaginative things. It can also be about adventuring with friends or watching the sun rise over a blocky ocean.