Quotes
Fred O'Bryant's Quote Collection - Volume 1. Best Quotes of All Time. Photo Credit: BigStockPhoto.com It's been three years since we shared our original list of some of the best quotes of all time, and we felt it was a good time for an update.
We've added another 25 quotes for you. Find quotes about anything and everything. 06-2012-23-53-44-Selection013.jpeg (JPEG Image, 650 × 329 pixels) Wednesday's Quotes. "There are only two ways to live your life.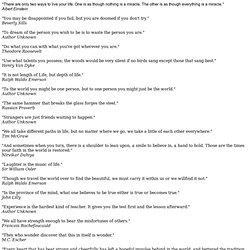 One is as though nothing is a miracle. The other is as though everything is a miracle. "Albert Einstein "You may be disappointed if you fail, but you are doomed if you don't try. "
---