Life Hacks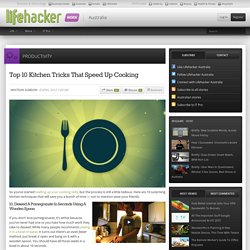 Top 10 Kitchen Tricks That Speed Up Cooking
So you've started beefing up your cooking skills, but the process is still a little tedious. Here are 10 surprising kitchen techniques that will save you a bunch of time — not to mention wow your friends. Please enable JavaScript to watch this video. 10. Deseed A Pomegranate In Seconds Using A Wooden Spoon
5 Ways To Hack Your Brain Into Awesomeness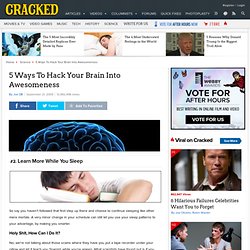 Learn More While You Sleep So say you haven't followed that first step up there and choose to continue sleeping like other mere mortals. A very minor change in your schedule can still let you use your sleep patterns to your advantage, by making you smarter. Holy Shit, How Can I Do It?
Most Popular Repurposing Tricks of 2011
There is something special about the tricks and tips people come up with to turn old or useless objects into something fresh and useful. Turning an old gadget or piece of furniture into something completely new is a great way to extend its life, and here are some of our favorite conversions from the last year. Top 10 Ways to Turn Your Retired Gadgetry into the Technology of the Future With the rapid progression of technology each year, it's easy to accumulate a pile of obsolete gadgets that you just can't bear to get rid of. Here's a few of the best ways you can still get use out of those gadgets and repurpose a pile of what might otherwise end up in the landfill.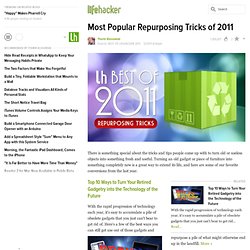 Life Hacks
LucyPhone.com - Never Wait on Hold Again
I disagree, the bicycle one is much more difficult than a crunch in the middle of a circuit, as long as you do it for over 20 seconds at least. But yes one-legged squats are so, so much better, if you can keep your balance well enough to carry them out. At my rowing club we find the most useful press-up variation is with your hands right next to each other, thumbs down fingers up to make a diamond-shaped hole between your hands. Really monsters your triceps. 10/13/11 9:11am
The Lifehacker Workout News, Videos, Reviews and Gossip - Lifehacker