Informatique
Administration Réseaux & Sécurité Web
Analyse du besoin - Gestion des spécifications
Animation, Support et débats Politique relatifs au numérique
Big Data - Gestion données de masse
Qualité des systèmes informatiques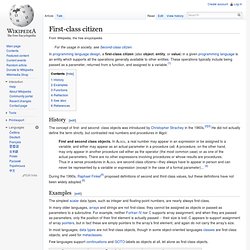 In programming language design, a first-class citizen (also object, entity, or value) in a given programming language is an entity which supports all the operations generally available to other entities. These operations typically include being passed as a parameter, returned from a function, and assigned to a variable.[1] History[edit] The concept of first- and second- class objects was introduced by Christopher Strachey in the 1960s.[2][3] He did not actually define the term strictly, but contrasted real numbers and procedures in Algol: First and second class objects.
First-class citizen
Réseau JdN : Tous les groupes
Un article de Wikipédia, l'encyclopédie libre. Le terme warez désigne des contenus numériques protégés par les lois du copyright, mais diffusés illégalement sans reverser de droits. Le terme provient d'une déformation du mot anglais wares (« marchandises » en français), au même titre que « matos » dérive de « matériel » (au sens marchandise).