Wood
Bar Plans - Free Bar Plans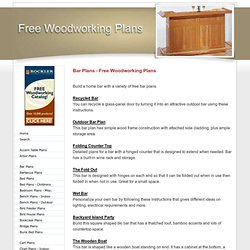 Build a home bar with a variety of free bar plans. Home Bar Plans These wet bar plans and construction tips will help get all those desired wet bars on their way. Plywood Bar Plan Create a great looking bar out of plywood that has four drawers, plenty of counter space and storage below. Handsome Oak Bar Build this hansome bar that commands atention with its rich oak construction and recessed panels. Basement Bar Step by step instructions to help you make a bar for the basement that has a large work counter and tons of storage.
The FREE PROJECTS PLANS category is dedicated to people who find pleasure in making various useful things from wood or metal. Every single man that has done something with his own hands knows what a great satisfaction it is to look at a finished assembly. That satisfaction comes out from the quality time he spent, applying of knowledge and experience, overcoming many challenges and obstacles that emerge during the manufacture and also from the fact that he made some useful thing with his own hands and does not have to buy it. People are much more attached to the things that they made by themselves than to the industrial products, even if their own handwork is usually simpler. And because of that pleasure, here we are offering you the plans for manufacturing various items, regardless whether they are rarity in the market or common everyday objects – from a completely simple to quite complex ones.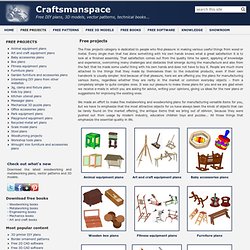 Free projects | Free technical plans, books, patterns, software...
Vintage Woodworking Plans: Space Raiders & More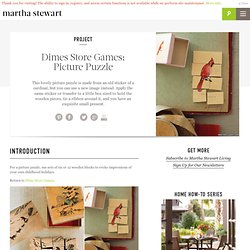 Dimes Store Games: Picture Puzzle - Martha Stewart Crafts
This lovely picture puzzle is made from an old sticker of a cardinal, but you can use a new image instead. Apply the same sticker or transfer to a little box sized to hold the wooden pieces, tie a ribbon around it, and you have an exquisite small present. For a picture puzzle, use sets of six or 12 wooden blocks to evoke impressions of your own childhood holidays.