Wood
Furniture
Bar Plans - Free Bar Plans. Build a home bar with a variety of free bar plans.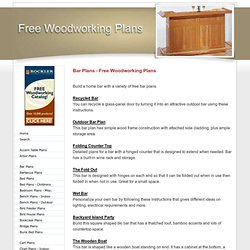 Recycled Bar You can recycle a glass-panel door by turning it into an attractive outdoor bar using these instructions. Outdoor Bar Plan This bar plan has simple wood frame construction with attached side cladding, plus ample storage area. Folding Counter Top Detailed plans for a bar with a hinged counter that is designed to extend when needed. Bar has a built-in wine rack and storage. The Fold Out This bar is designed with hinges on each end so that it can be folded out when in use then folded in when not in use. Free projects | Free technical plans, books, patterns, software... The Free projects category is dedicated to people who find pleasure in making various useful things from wood or metal.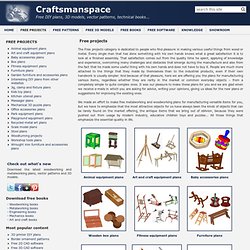 Every single man that has done something with his own hands knows what a great satisfaction it is to look at a finished assembly. That satisfaction comes out from the quality time he spent, applying of knowledge and experience, overcoming many challenges and obstacles that emerge during the manufacture and also from the fact that he made some useful thing with his own hands and does not have to buy it. People are much more attached to the things that they made by themselves than to the industrial products, even if their own handwork is usually simpler. And because of that pleasure, here we are offering you the plans for manufacturing various items, regardless whether they are rarity in the market or common everyday objects – from a completely simple to quite complex ones.
Search the Plan Catalog | Ana White. Dimes Store Games: Picture Puzzle.
---