Story Things to Read
Harrison Bergeron. Heads Will Roll by Lish McBride. Lena's not your typical animal trainer.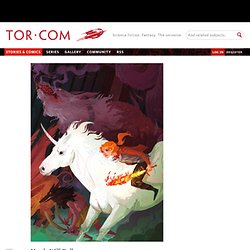 And when she and her unicorn partner, Steve, decide to enter a fight, it's definitely not your typical fight…. Enjoy a new original story from Lish McBride, the author of Hold Me Closer, Necromancer and its sequel Necromancing the Stone. This short story was acquired for Tor.com by Henry Holt editor Noa Wheeler. The New York Times > Books > Interactive Feature > A Literary Map of Manhattan. Street Fiction: Urban Fiction Author Interviews, Urban Fiction News, and Urban Fiction Book Reviews.
---