Story Things to Read
( Printable version in PDF format) It is very seldom that mere ordinary people like John and myself secure ancestral halls for the summer. A colonial mansion, a hereditary estate, I would say a haunted house, and reach the height of romantic felicity--but that would be asking too much of fate!
The Yellow Wallpaper
Lena's not your typical animal trainer. And when she and her unicorn partner, Steve, decide to enter a fight, it's definitely not your typical fight…. Enjoy a new original story from Lish McBride, the author of Hold Me Closer, Necromancer and its sequel Necromancing the Stone . This short story was acquired for Tor.com by Henry Holt editor Noa Wheeler.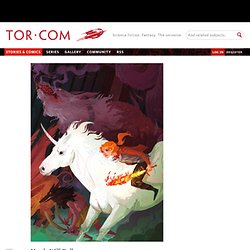 Heads Will Roll by Lish McBride
The New York Times > Books > Interactive Feature > A Literary Map of Manhattan
Street Fiction: Urban Fiction Author Interviews, Urban Fiction News, and Urban Fiction Book Reviews