Brain Teasers
Brain Fitness And Memory Programs, Brain Training - CogniFit. Games at Sporcle.com. Light-Bot. 10 Websites With Fun Tests To Gauge Your IQ. Intelligence Quotient (IQ) is a term that's related to the wattage of your brain; in short intelligence and reasoning skills measured across a few standardized tests.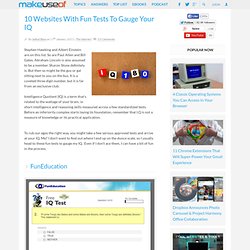 Before an inferiority complex starts laying its foundation, remember that I.Q is not a measure of knowledge or its practical application. To rub our egos the right way, you might take a few serious approved tests and arrive at your IQ. Me? I don't want to find out where I end up on the dunce scale, so I usually head to these fun tests to gauge my IQ.
Even if I don't ace them, I can have a bit of fun in the process. 10 Websites for Puzzles, Brain Teasers and Riddles. For instance, take a shot at this riddle that's an example of a simple riddle (but difficult to answer).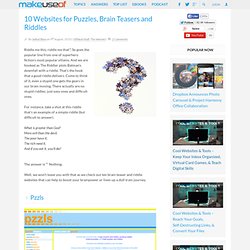 What is greater than God? More evil than the devil, The poor have it, The rich need it, And if you eat it, you'll die? 5 Minute Mystery: Short, online you-solve-it mysteries. Best Brain Teasers. The Hardest Riddle Available on the Internet. Quick thinking and sharp reactions are great for riddles and for online poker.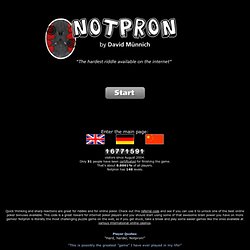 Check out this referral code and see if you can use it to unlock one of the best online poker bonuses available. This code is a great reward for internet poker players and you should start using some of that awesome brain power you have on more games! Notpron is literally the most challenging puzzle game on the web, so if you get stuck, take a break and play some easier games like the ones available at various international online casinos. Player Quotes: "Hard, harder, Notpron! " Brain Training | Brain Exercises | Brain Fitness Games | Brain Metrix. Brain Fitness and Cognitive Health Authority: Market Research and Advisory Services. Brain Teasers, Puzzles, Riddles, Trivia and Games. Brain Games and Mind Puzzles | Play With Your Mind.
---