Miscellaneous (toys, brain training, etc.)
Puzzle Master Inc.
Thinkfun |
0 Items, $0.00 Item added to your cart: Continue Shopping Check Out X See The Games! Brain Fitness Games Smart Play Blog Featured Product
PuzzleSolver: Solutions to Mechanical Puzzles
Below you can find the Top 50 Brain Teasers and Games that Sharp­Brains read­ers have enjoyed the most. It is always good to learn about our brains and to exer­cise them! This is our selec­tion of fun and enlight­en­ing brain teasers for adults of any age. Fun exper­i­ments on how our brains work 1. You think you know the col­ors?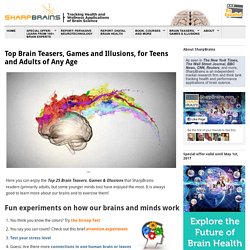 Kadon Enterprises, Inc. GAMEPUZZLES for the joy of thinking