Desctop Software
GPSBabel: convert, upload, download data from GPS and Map programs. Welcome To Opticks - Opticks - Opticks Wiki.
Nishe Modelling
GRASS. SEXTANTE Spatial Data Analysis Library. El blog del SEXTANTE. LARS MultiSpec. Welcome to BEAM - brockmann-consult.de. BEAM is an open-source toolbox and development platform for viewing, analysing and processing of remote sensing raster data.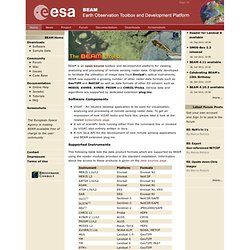 Originally developed to facilitate the utilisation of image data from Envisat's optical instruments, BEAM now supports a growing number of other raster data formats such as GeoTIFF and NetCDF as well as data formats of other EO sensors such as MODIS, AVHRR, AVNIR, PRISM and CHRIS/Proba. Various data and algorithms are supported by dedicated extension plug-ins. VISAT - An intuitive desktop application to be used for visualization, analyzing and processing of remote sensing raster data. To get an impression of how VISAT looks and feels like, please take a look at the related screenshots page.A set of scientific tools running either from the command line or invoked by VISAT, also entirely written in Java.A rich Java API for the development of new remote sensing applications and BEAM extension plug-ins.
BEAM Help.
GPS-Photo-Synchronysation
3D-visualization. SAGA. QGIS.
---