Stores
OrphanCameras.com. I have moved the PDF files toanother hosting company.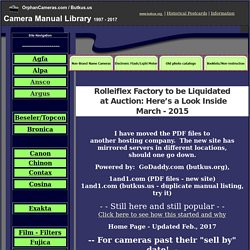 The new site hasmirrored servers in different locations,should one go down. Powered by: GoDaddy.com (butkus.org), Manfred Schmidt. MANFRED SCHMIDT COLLECTIBLE CAMERAS AND ACCESSORIES - Leica Cameras and Lenses A large inventory of Leica cameras and accessories, PLUS hundreds of other collectible cameras and accessories.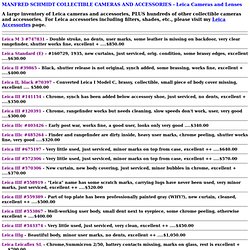 For Leica accessories including filters, shades, etc., please visit my Leica Accessories page. CameraBooks. Kelby Training. Precision Photo. B. KEH.com. Collectible Cameras. Filter Find.
---