Game info
Thomas Steinke's Blog - How to Make it as a Professional Indie Game Developer. My name is Thomas Steinke, if you are not aware of me; I am the owner of DigitalDNA games, arguably the most successful Xbox Indie Developer, and the creator of the all time best selling Xbox Indie Game CastleMiner Z .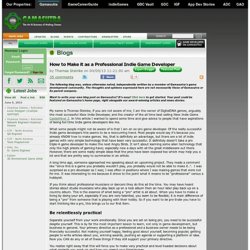 In this article I wanted to spend some time and give advice to people that have aspirations of being full time Indie game developers like me. What some people might not be aware of is that I am an ex-pro game developer. Of the really successful Indie game developers this seems to be a reoccurring trend. Most people would say it's because you already KNOW how to make games. David Galindo's Blog - How much do indie PC devs make, anyways? (Part IV) It's kind of incredible how much the gaming landscape has changed in just less than two years.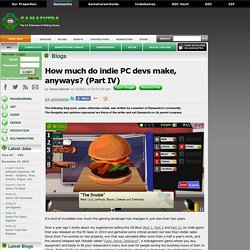 Over a year ago I wrote about my experiences selling the Oil Blue ( Part 1 , Part 2 and Part 3 ), an indie game that was released on the PC back in 2010 and garnered some critical acclaim but less than stellar sales. Since then I've worked on two projects, one that was cancelled after more than a half a year's work, and the second released last October called " Cook, Serve, Delicious!
", a management game where you buy equipment and foods to fill your restaurant's menu and cook for people during the business hours of 9am to 10pm. Today I'd like to share my sales and how I got there, where I go from here, the strategies I used in selling the game and what I would and wouldn't do again.
This is less of a post-mortem in game design and more of what I learned in selling not only my biggest PC game to date, but my first Mac and iOS release as well. Rebecca Fernandez's Blog - Where can I sell my Indie PC game? In an effort to increase our sales numbers we are looking into all the different places that we can sell our game, Triangle Man .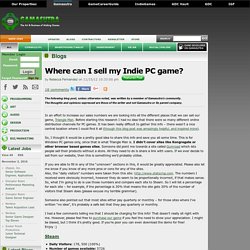 Before starting this research I had no idea that there were so many different online distribution channels for PC games. It has been really difficult to gather this info – there wasn't a nice central location where I could find it all ( though this blog post was amazingly helpful, and inspired mine ). So, I thought it would be a pretty good idea to share this info and save you all some time. Mike Rose's Blog - The Idiot's Guide to Marketing Your Indie Game. There are already a bunch of articles on how to get your indie game out there.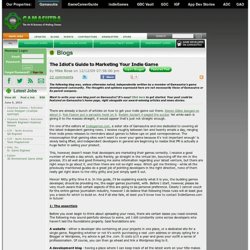 Kieron Gillen banged on about it . Rob Fearon put a sarcastic twist on it . Rodain Joubert 4-paged the sucker . Yet while each is giving it to the masses straight, it would appear that's just not straight enough. Indie Distribution Platforms that are not Steam < Rat King Entertainment. (The original posting is in German, on Indie-Inside .)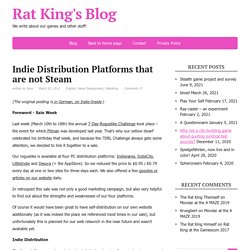 Foreword - Sale Week Last week (March 10th to 18th) the annual 7-Day-Roguelike Challenge took place – the event for which Pitman was developed last year. The Big List Of Online Game Stores. How to sell your game | Buy Some Indie Games! Hey, you made a game!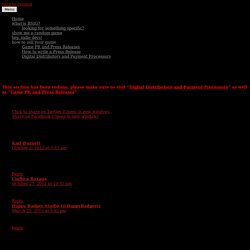 What now? Selling the thing… If you want to sell your game directly from your website, take a look at the ever-excellent Pixel Prospector for this handy list of payment processors . If you prefer to have your game distributed by a third party, there are quite a few shops who might be willing to do that for you. Keep in mind that they usually charge you 20-30% for their services. 5 способов сделать фримиум игру неудачной. Бизнес-модель фримиум, или фри-ту-плей, до сих пор новая, и находится в незрелом состоянии (Свои мысли в блогах портала высказывает Бенджамин Сайп — игровой продюсер, поучаствовавший в создании многих успешных проектов).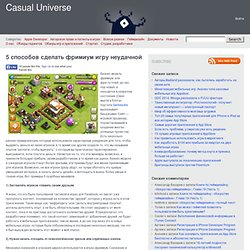 Есть несколько ранних приверженцев, которые использовали характерные ухищрения для того, чтобы выдавить деньги из своих игроков, в то время как другие создали то, что мы называем опытом "заплати, чтобы выиграть", с которым вы практически гарантированно выигрываете, если платите деньги. Несмотря на то, что эти маневры, возможно, и принесли большую прибыль своим разработчикам, в то время как рынок, бизнес-модели и ожидания игроков станут более зрелыми, эти приемы будут все менее приемлемыми для игроков. Возможно, не все игроки сразу уйдут, но лучше обогнать эту кривую уменьшения интереса, и начать делать дизайн, и воплощать в жизнь более умные и тонкие игры.
Level 16: Game Balance « Game Design Concepts. When veteran gamers or game designers are playing a game, if they are doing too well or too poorly, they will often comment on the game's balance.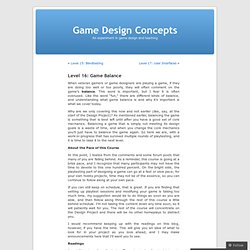 This word is important, but I fear it is often overused. Like the word "fun," there are different kinds of balance, and understanding what game balance is and why it's important is what we cover today. Why are we only covering this now and not earlier (like, say, at the start of the Design Project)? As mentioned earlier, balancing the game is something that is best left until after you have a good set of core mechanics. Games Aren't Art, They're Architecture. One year ago, Roger Ebert wrote a Chicago Sun Times article about how video games "are not and never will be art."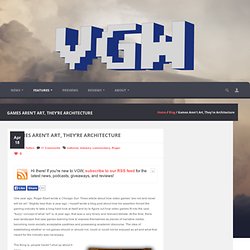 Slightly less than a year ago, I myself wrote a blog post about how his assertion forced the gaming industry to take a long hard look at itself and try to figure out how video games fit into the vast, "fuzzy" concept of what "art" is. A year ago, that was a very timely and relevant debate. At the time, there was landscape that saw games learning how to express themselves as pieces of narrative media, becoming more socially acceptable pastimes and possessing academic discourse. The idea of establishing whether or not games should or should not, could or could not be enjoyed as art and what that meant for the industry was necessary.
Referenced for the project. Valve. Game Guides, Walkthroughs, Solutions, Maps, Codes and game FAQs for PC and Video Games. Video Game Strategy Guides. Video Game Cheats, Cheat Codes, Strategies, Guides, and Walkthroughs - Prima Games. Game design - Accuracy vs distance formula - Game Development. Making of videos. GameDev.net. View topic - THE PERPETUAL TESTING CHALLENGE: Rules and Discussion! The Secret World | Funcom. We have revealed quite a bit about the character development system and progression in The Secret World recently – Both through a developer diary video and an in-depth article .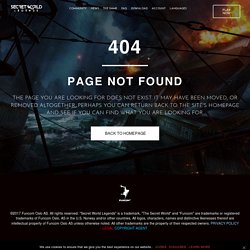 But I wanted to take this opportunity to delve even deeper into these crucial features, because I know a lot of you always crave more information. I'm going to give a detailed explanation of the following topics: "How Riot excels at game design (and the pitfall I hope they avoid)" by Gustaf @ Reign of Gaming. Whenever somebody asks me for a game recommendation, I'm basically thinking two things: Has this person played a lot of games before? Is this person into solo, collaborative, or competitive games? And regardless of the answers, I'm going to ask the real question 'does the game need to have a story/narrative?'
And if they say no, I'm going to recommend LoL, and if they say yes, I might anyway. Во что играете под НГ? Three Hundred :: Three Hundred Mechanics. PATV. No Mutants Allowed - Your Post Nuclear News Center! ИГРОМАНИЯ, журнал об играх - компьютерные игры, консоли, прохождения игр, обзоры игр, новости игр, демо, патчи, коды. 18 апреля 2014 | 50 сек. | Просмотров: 192 Логическая инди-игра, в которой нужно заставить двигаться спутник в определенном направлении, используя притяжение планет. 18 апреля 2014 | 1 мин. 26 сек. | Просмотров: 406 От геройских побед до позорной виселицы — один неосторожный взмах меча. Games-tv – Интересно для интересующихся! Портал о компьютерных играх, фильмах и гаджетах.
---