Urban exploration
London Underground Tube Diary - Going Underground's Blog
Urban adventure in Rotterdam - 2
Welcome - Rats n Ruins
railway homepage Disused stations, abandoned railways, steam trains, old buildings and railway walks - we love 'em! Blaenavon Big Pit railway Bluebell Railway Brecon Mountain Railway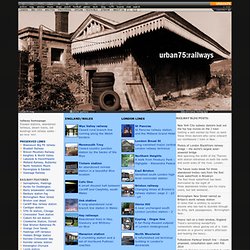 Photos of abandoned railways, disused stations, old tracks, rail
Home Page
sub-urban.com - Urban Underground Exploration
Abandoned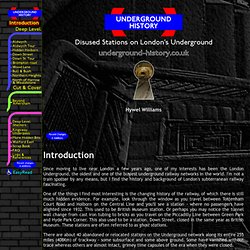 Tower Bridge aerial photograph © 1999 and is used with permission. The photograph was taken late 1999 just as building work was commencing on the south bank (left of the picture) of the Thames. I have no problem with people printing out a copy of these pages for personal use - but remember that I've used white text so you may need to change your browser's print character colour to black. For Netscape 4.x, its in File, Page Setup, check black text box . For Internet Explorer 5.x, I suspect the pages will print out in grey text since I've used an off-white colour for the lettering.
London Underground History - Disused Stations on London's Underg
The Shady Old Lady's Guide to London
| JINX MAGAZINE |
Urban Resources : Urban Exploration, Industrial Archaeology, Bun
+Lost Destinations::Abandoned, Unusual, Wild & Weird NJ, TX, NM
Cave Clan
Urban Twilight - Exposing the darkness
Zone-Tour : Database of Urban Exploration
Expect the unexpected
Underground Ozarks
Fallout Urban Exploration
mechanised
Urban Exploration-More than a walk in the park « The Thicketeer
Yesterday I made mention of one of my favorite subjects, Urban Exploration. For those of you who were intrigued, this is the post that will answer some of your questions and (hopefully) give you some new ones. I cant really recall where I first heard about urban exploration (to be abbreviated as UE from now on). I was probably playing around on google on one of my more restless days, searching for things like "adventure" and "explore". Either way, I stumbled my way onto a page that mentioned UE and gave a brief description of it.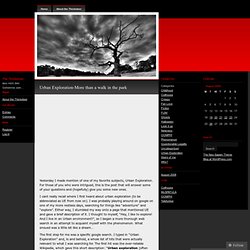 Index - Illicitohio.com
deadmalls DOT com
ohio trespassers
Abandoned Britain - Photographing Ruins
Single-Serving Photo
Disaster comes in differing dark shades of bleak and deadly flavors of horrendous dismay, such as environmental, economic, and natural. Across the globe, there are hundreds of ghost towns and places which were abandoned due to disasters. Chernobyl Disaster In 1986, Reactor 4 exploded at Chernobyl Nuclear Power Plant.
Ghost towns | Our world - animals, beautiful nature, techics, hi