Casting
Heat Treatment of Aluminum Alloys. Melting metal in a home foundry, backyard metalcasting, metal casting. Projects. Foundry Facts. SAND SAND SAND Greensand recipe: 100 lbs sand Silica or Olivine 12 lbs powdered bentonite 7 lbs water (1 gallon) 1.Mix sand and water thoroughly, 2.
Gradually add bentonite and mix well. Bentonite is a fine clay 3. Stomp with feet until flat and mix (fluff up) with shovel. HobbyMelter™ Furnace kit - Lionel's Laboratory. Thinking of building a furnace?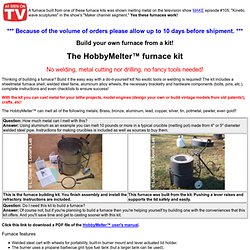 Build it the easy way with a do-it-yourself kit! No exotic tools or welding is required! The kit includes a sheetmetal furnace shell, welded steel fame, aluminum alloy wheels, the necessary bracketry and hardware components (bolts, pins, etc.), complete instructions and even checklists to ensure success! FOUNDRY101.COM. Casting FAQ.
---