Casting
Heat Treatment of Aluminum Alloys
Heat Treatment of Aluminum Alloys When an aircraft designer specifies a particular material in a blueprint, not only is the type of alloy critical but so too is the Temper or Heat Treatment . Failure to meet the specified material heat treatment may result in production of a component that is drastically under strength or one that will rapidly deteriorate under adverse environmental conditions.
Projects
Foundry Facts
Greensand recipe: 100 lbs sand Silica or Olivine 12 lbs powdered bentonite 7 lbs water (1 gallon) 1.Mix sand and water thoroughly, 2. Gradually add bentonite and mix well.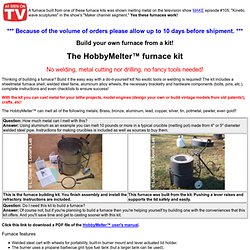 HobbyMelter™ Furnace kit - Lionel's Laboratory
*** Kit sales are back on.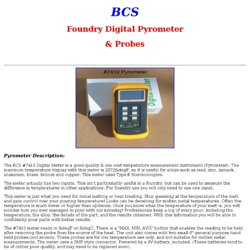 Foundry Pyrometer
Pyrometer Description: The BCS #7410 Digital Meter is a good quality & low cost temperature measurement instrument (Pyrometer).
FOUNDRY101.COM
Casting FAQ