Sewing
M6356 | Misses' Tops | View All. M6283 | Misses' Lined Dresses | Dresses. M5850 | Misses' Dresses | Evening/Prom. M6330 | Misses' Lined Dresses | Dresses. M6435 | Misses' Tops | New Sewing Patterns. M6326 | Misses' Tops | View All. Embroidery Designs at Urban Threads - Projects. Now, the next part is not really an exact science.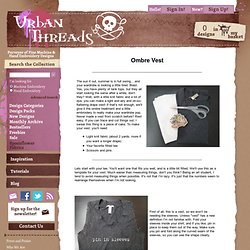 Every shirt is different, and it especially matters if you're dyeing white to dark like me, or maybe just a color to a similar dark color. If you're really unsure about things, you can always test dye a swatch of fabric. 10 Awesomely Altered T-Shirts | The New Home Ec. By ashleyhackshaw | Do you have a bunch of t-shirts lying around that you just aren't into anymore?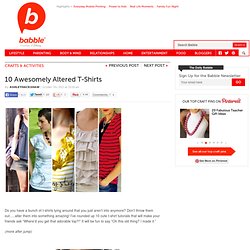 Don't throw them out…..alter them into something amazing! I've rounded up 10 cute t-shirt tutorials that will make your friends ask "Where'd you get that adorable top?!" It will be fun to say "Oh this old thing? Designer Makes Fairytale Dress From Recycled Children's Books. Photos: Ryan Novelline Think children's books are only suitable for tots to read (or chew) on?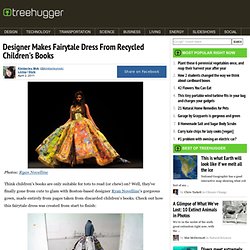 Well, they've finally gone from cute to glam with Boston-based designer Ryan Novelline's gorgeous gown, made entirely from pages taken from discarded children's books. Check out how this fairytale dress was created from start to finish: Hb_C.I.53.40.5a-e_av1.jpg (JPEG Image, 450×637 pixels) - Scaled (78%) Upcycle: T-shirts to Summer vest tutorial.
I love to spice up dresses and jeans with long summer vest.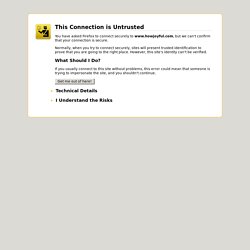 In my last visit to Target I found a few very cool and super cheap items, I already showed you what I did with this dress. So now I wanted to show what I did with two T-shirts, I also used a little piece of lace for the back, but you don't need to use it if you don't like lace. I really liked that the T-shirts were very soft and a thin material, thinner than normal cotton T-shirts. They cost me $3.00 each and both were XL. I am a Medium in shirts so I would recommend to use shirts two sizes bigger than what you normally wear so they are long enough and you end up with a pretty and full bottom. Free Sewing Patterns and Sewing Machine Help at AllCrafts! Tons of free sewing patterns and tutorials.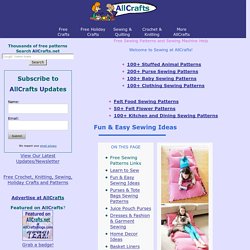 Easy to advanced. Sewing machine help and instructions for various techniques. The best FREE patterns so WONDERFUL people like YOU can create and SHARE! Please let us know about any broken links that you find. THANKS.
Sewing Stuff - free sewing patterns. Everything Else Nov 2005 curtains, shades, pillows, cushions, etc Waverly Curtains archived mostly extremely strange dolls Doll Maker's Journey.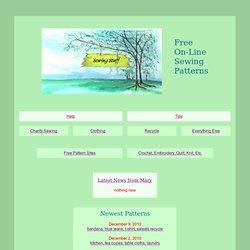 Sewing Patterns Online. This is a collection of patterns and links to sewing patterns for clothing for older children and adults.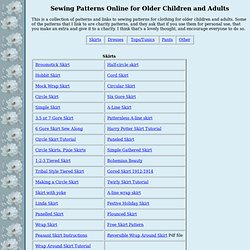 Some of the patterns that I link to are charity patterns, and they ask that if you use them for personal use, that you make an extra and give it to a charity. I think that's a lovely thought, and encourage everyone to do so. Return to Another Family Spot Links about Judaism for kids Credits for graphics and webrings. Free Dress Patterns. 2.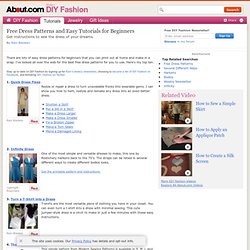 Infinity Dress Copyright Rostichery One of the most simple and versatile dresses to make, this one by Rostichery harkens back to the 70's. The straps can be retied in several different ways to create different bodice looks. Make This Look. Out of Order: DIY Tutorial - Full Skirt. How to make Glittens (fingerless glove-mittens) 1) Select which part of the fabric you want as the main feature of your gloves.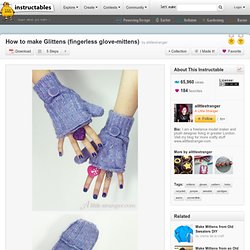 I decided to have the cabling on the jumper running down the middle of the gloves. 2) Mark and cut out the hand part of the gloves, placing the cabling in the centre of one half of the glove. Cut another with the cabling on the opposite side 3) this is what your two main hand parts should look like, with the cabling design on opposite sides on each piece. My Purple dress. Purple is my favorite color, that's why it was one of the main colors of our wedding (along with green, Ken's favorite color).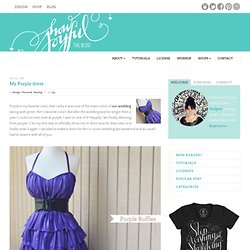 But after the wedding and for longer than a year I could not even look at purple, I was so sick of it! Happily I am finally detoxing from purple =] So my first step to officially show my re-born love for that color, is to finally wear it again. I decided to make a dress for Ken's cousin wedding last weekend and as usual I had to share it with all of you. I had that purple fabric way before our wedding – I actually brought it from Chile – and yes, if you are wondering, did she really move to the California with a bunch of fabric? V1260 | Misses' Blouse | New Sewing Patterns. V1211 | Misses' Jacket | Jackets/Vests. Creative Group - Misses' Dresses. Womens knit top one shoulder Sewing Pattern 2364 Simplicity. Misses' sewing pattern knit tops with one shoulder or sleeve variations. Designs by Karen Z. Digital patterns are tiled and labeled so you can print and assemble in the comfort of your home.
Plus, digital patterns incur no shipping costs! Upon purchasing a digital pattern, you will receive an email with a link to the pattern. Womens and Petite Cocktail Dress Sewing Pattern 4070 Simplicity.
---