Training
This is the 6th year that I have produced a list of my favourite articles, blog postings and slidesets of the year, chosen from my annual Reading List.
Top 50 articles of 2013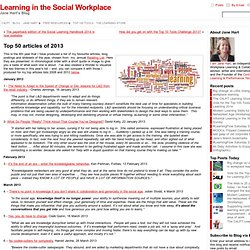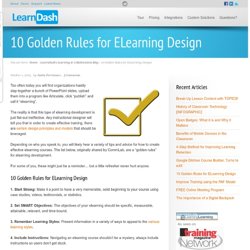 10 Golden Rules for ELearning Design
Too often today you will find organizations hastily slap-together a bunch of PowerPoint slides, upload them into a program like Articulate, click "publish" and call it "elearning". The reality is that this type of elearning development is just flat-out ineffective. Any instructional designer will tell you that in order to create effective training, there are certain design principles and models that should be leveraged.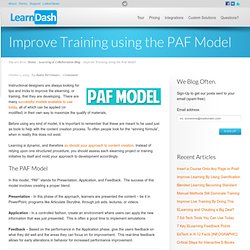 Instructional designers are always looking for tips and tricks to improve the elearning, or training, that they are developing. There are many successful models available to use today, all of which can be applied (or modified) in their own way to maximize the qualify of materials. Before using any kind of model, it is important to remember that these are meant to be used just as tools to help with the content creation process.
Improve Training using the PAF Model
Top 10 Reasons to Use 3D Humanoid Vectors Instead of Photographs | The Upside Learning Blog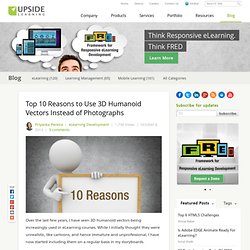 Let's take a look at the main advantages of this type of visual.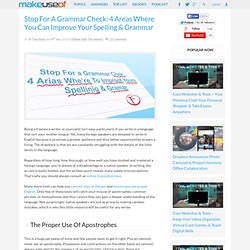 Stop For A Grammar Check: 4 Areas Where To Improve Your Spelling & Grammar
Being a freelance writer or journalist isn't easy, particularly if you write in a language that isn't your mother tongue. Yet, many foreign speakers are tempted to write in English because it promises a greater audience and thus better opportunities to earn a living. The drawback is that we are constantly struggling with the details of the little devils in the language.
Enter Project Start Date and Task Dependencies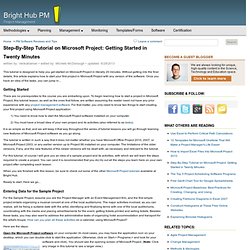 How To Start a Project in Microsoft Project: A Step By Step Tutorial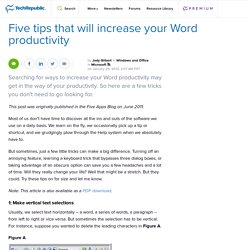 Five tips that will increase your Word productivity
Searching for ways to increase your Word productivity may get in the way of your productivity. So here are a few tricks you don't need to go looking for.
In my previous post I showed that an analysis of how Knowledge Workers like to learn at work suggests that L&D departments should consider working more closely with people managers to support the continuous learning and performance improvement of their people – both in teams and individually.
Supporting continuous learning and performance improvement – a vital new area of work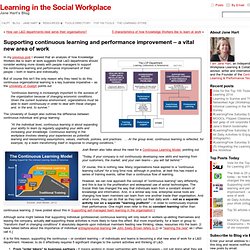 ABC: Keep it Simple Training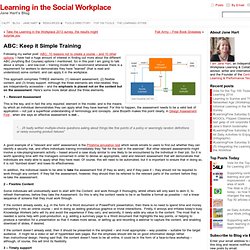 Following my earlier post: ABC: 10 reasons not to create a course – and 10 other options, I have had a huge amount of interest in finding out more about the different ABC (Anything But Courses) options I mentioned. So in this post I am going to talk about a simple – and low-cost – training model that I recommend whenever there is a requirement for workers to demonstrate they have "learned" (that is read and understood) some content, and can apply it in the workplace.
My colleague, Clark Quinn, recently wrote a blog post, Yes, you do have to change, in which he explained how he felt that "the elearning industry, and the broader learning industry, is severely underperforming the potential".
ABC: 10 reasons NOT to create a course and 10 other options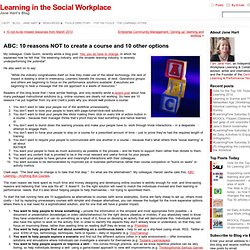 5 Methods for Social Leadership: Try Reverse Mentoring
Adobe Captivate, TechSmith Camtasia Studio, Articulate Storyline: Production Times
One of the more common questions that I get from new eLearning developers is how much time it will take to produce published content.
Assessing the ROI of training by Clive Shepherd If people really are your greatest asset, isn't it time to look at your training programmes as investments in your organisation's human capital and not just as an expense?
Assessing the ROI of training
What type of email subject gets your attention? This week I deleted 1226 messages from my email inbox. Viewing their subject lines, I was reminded of what typically makes me read a message: specificity--something specific in the subject.
Email Subjects: Specific vs. Vague
How The Pros Do It: Avoiding Embarrassment & Delivering Perfect Presentations
Ah!
Self-Directed Learning is not new. Studied in terms of adult education and vocation for years, self-directed learning is increasing in popularity for a variety of reasons, including growing dissatisfaction with public schooling, and the rich formal and informal learning materials available online.
The Four Stages Of The Self-Directed Learning Model
cooperative competencies
New skills for the learning professional in changing times #chat2lrn « Learning in the Social Workplace
How Your Workplace Can Support Learning Transfer
Five reasons to hate virtual meetings
The Roadmap to Effective Leadership
Small and Mid-Sized Business Training Blog - Informal & Social Learning - Do the Distinctions Even Matter?
5 Ways to Use Goal-Based Learning « Rob's Learning and Technology Blog
Nuts and Bolts: Assessing the Value of Online Interactions by Jane Bozarth
Want Powerful On-the-Job Training?
6 Lessons to Introduce Flexibility in Your Workforce - HR Daily Community
Pick of the Day: 21 August | Centre for Learning & Performance Technologies - Comodo IceDragon
5 Icebreaker Exercises for Teams
Informal rule of thumb
A new framework for supporting learning and performance in the social workplace
A List of Interesting Mobile Learning Links
Nuts and Bolts: Selling It by Jane Bozarth
5 Tips For Proofreading Your Own eLearning Content
The Unexamined Leadership Program is Not Worth Doing
Coaching Introverts to be Leaders
All About Presentations: 15 Presentation Secrets of Steve Jobs [Book Review]
70:20:10 Tech - Waterfox
The Ultimate eLearning Design and Development Checklist
How To Train Your Team On Zero Budget
Workforce Development Services: A new framework for providing training and learning support in organizations | Workforce Collaboration
Training is like coffee – you need the right blend! | Project Management Training with Ron Rosenhead
Content Curation and the end of Intellectual Property « Rapid eLearning | Adobe Captivate Blog
Dave's Whiteboard
Trainers and Instructional Design
Tips for Writing Successful Test Questions
10 Visual Design Quick Tips