Workflow
HandySoft: Workflow Software and Business Process Management (BPM) Software by HandySoft
BPMlink is looking forward to providing events throughout Australia on process and change management topics as we have done for a number of years now. Hundreds of subscribers enjoyed the many events held throughout 2012 and 2013. The breadth of topics ensures that both the business and IT perspectives of BPM are considered.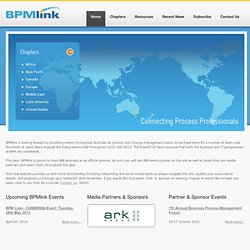 BPMLink - ADELAIDE
Activiti is a light-weight workflow and Business Process Management (BPM) Platform targeted at business people, developers and system admins. Its core is a super-fast and rock-solid BPMN 2 process engine for Java. It's open-source and distributed under the Apache license. Activiti runs in any Java application, on a server, on a cluster or in the cloud. It integrates perfectly with Spring, it is extremely lightweight and based on simple concepts.
Activiti.org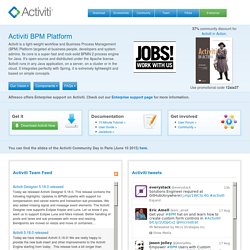 A couple weeks ago I implemented 2 web applications and a REST API for a new open sourced BPM / BPMN 2.0 engine named Activiti. Feel free to visit http://www.activiti.org where you may download the distribution (Apache licensed) and play around with it. The actual BPM engine is just a simple jar file having the benefit of therefore being deployable in virtually any JAVA environment.
Activiti - Safari tutorial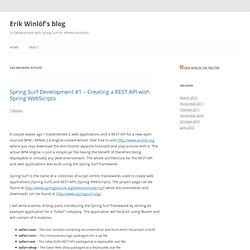 Home The follow tutorial must help you to configure activiti-5.0.alpha4 to work with MySQL 5.x, to let you have a correct setup configuration and a startup execution without any problems. You perhaps could be thinking that right now exists in Activiti's documentation the instructions for configuration and installation, that's correct, but after to follow such instructions, I did realize that some steps are missing, some tricks are mandatory and a bug exists. Therefore I am sharing my experience solution to avoid you a headache.
Configuration Instructions for Activiti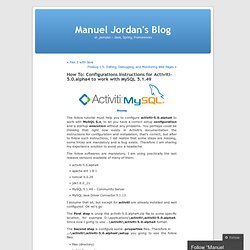 Developers Guide - Activiti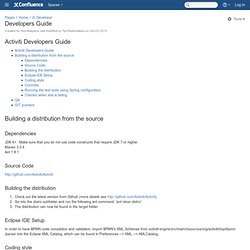 Dependencies JDK 6+ : Make sure that you do not use code constructs that require JDK 7 or higher. Maven 3.0.4 Ant 1.8.1 Source Code
automating a process with Activiti
BPM - Process Developments
Earlier today Last week I got into this twitter conversation (couldn't publish earlier from inside China): It's a condensed conversation deserves some elaboration. When the term BPM is used, always bear in mind that there are 2 sides to that coin: A management discipline and a type of software system. Here's the basic context of BPM as a management discipline so that everyone is on the same page: At first, some desired result must be achieved. A manager typically breaks down the tasks to be done and delegates them to employees.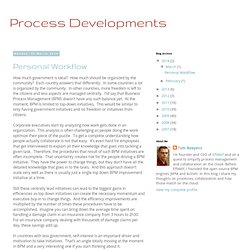 Drools - JBoss
Drools - The Business Logic integration Platform Drools 5 introduces the Business Logic integration Platform which provides a unified and integrated platform for Rules, Workflow and Event Processing. It's been designed from the ground up so that each aspect is a first class citizen, with no compromises.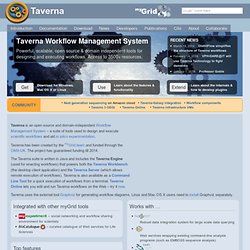 Taverna is an open source and domain-independent Workflow Management System – a suite of tools used to design and execute scientific workflows and aid in silico experimentation. Taverna has been created by the myGrid team and funded through the OMII-UK. The project has guaranteed funding till 2014. The Taverna suite is written in Java and includes the Taverna Engine (used for enacting workflows) that powers both the Taverna Workbench (the desktop client application) and the Taverna Server (which allows remote execution of workflows). Taverna is also available as a Command Line Tool for a quick execution of workflows from a terminal.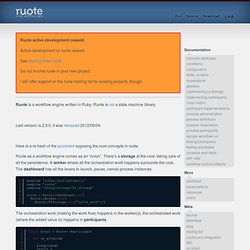 ruote
Ruote active development ceased. Active development on ruote ceased. See scaling down ruote Do not involve ruote in your new project. I still offer support on the ruote mailing list for existing projects, though.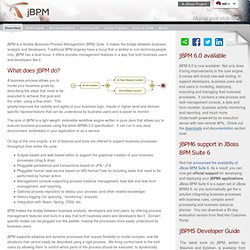 jBPM is a flexible Business Process Management (BPM) Suite. It makes the bridge between business analysts and developers. Traditional BPM engines have a focus that is limited to non-technical people only. jBPM has a dual focus: it offers process management features in a way that both business users and developers like it.
YAWL: Yet Another Workflow Language YAWL is a BPM/Workflow system, based on a concise and powerful modelling language, that handles complex data transformations, and full integration with organizational resources and external Web Services. YAWL offers:
YAWL: Yet Another Workflow Language | Leading the World in Process Innovation
The success of many VARs in the open source ecosystem is based on their ability to repackage open source software into a user-friendly platform... look no further than ProcessMaker, the workflow package from Colosa that debuted a much-enhanced version. ProcessMaker has helped us improve the efficiency of our employees. Instead of running around to get approvals, we now have a software based process management. " Pinkesh Jain, Finance Manager, Lakozy Toyota success story More Testimonials
wiki
Open Source Workflow Engines Written in Java
TIBCO
Go Mobile Connect, share, discuss, and explore TIBCOmmunity wherever you areThe TIBCOmmunity app is available across today's most popular mobile operating systems.Download the app today! Follow People Connect with your peers and learn from them.
The Kepler Project — Kepler
Info The Kepler Project is dedicated to furthering and supporting the capabilities, use, and awareness of the free and open source, scientific workflow application, Kepler. Kepler is designed to help scien­tists, analysts, and computer programmers create, execute, and share models and analyses across a broad range of scientific and engineering disciplines. Kepler can operate on data stored in a variety of formats, locally and over the internet, and is an effective environment for integrating disparate software components, such as merging "R" scripts with compiled "C" code, or facilitating remote, distributed execution of models.
A Petri net (also known as a place/transition net or P/T net) is one of several mathematical modeling languages for the description of distributed systems. A Petri net is a directed bipartite graph, in which the nodes represent transitions (i.e. events that may occur, signified by bars) and places (i.e. conditions, signified by circles). The directed arcs describe which places are pre- and/or postconditions for which transitions (signified by arrows). Some sources[1] state that Petri nets were invented in August 1939 by Carl Adam Petri — at the age of 13 — for the purpose of describing chemical processes.