iPad
BLC13 click here for resources from our pre-conference and here for app recommendations. Kanex ATV Pro This new adapter has just came out that allows you to connect your Apple TV to your projector incase you have a older projector that doesn't have a HDMI input. This is ideal for the classroom so teacher and students can easily share their screen on the big screen. Purchase it for $59.00 @ http://www.kanexlive.com/atvpro Wordpress Steps to Creating Your Blog:
ALASmedia - AM_home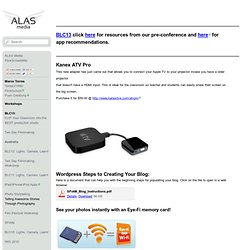 I am sick of people saying that the iPad is for consuming and not creating online digital content. There is no doubt that the iPad is a great device to browse the web, read an eBook and check email (consuming) but it can do so much more than that. You will see from my list below that the iPad is far superior to the laptop in a lot of different areas of digital content creation. iPad Creation: Email: We'll start simple, the iPad is great for composing email messages, grant it, you wouldn't want to write a novella, but short, quick and simple emails work great.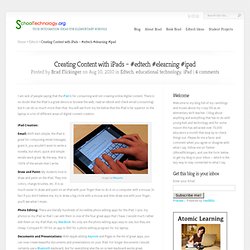 Creating Content with iPads – #edtech #elearning #ipad | School Technology Solutions
iPads in the Classroom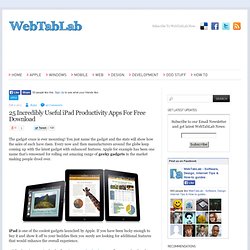 The gadget craze is ever mounting! You just name the gadget and the stats will show how the sales of each have risen. Every now and then manufacturers around the globe keep coming up with the latest gadget with enhanced features. Apple for example has been one name that's renowned for rolling out amazing range of geeky gadgets in the market making people drool over.
25 Incredibly Useful iPad Productivity Apps For Free Download | webtablab.com
While each of us has our own particular needs, I'm sure one or more of these apps will serve your needs. So get ready to set up a folder on your tablet and download a useful collection of resources. Evernote