Drinking games
A.S.B. • Hello, alcohol poisoning.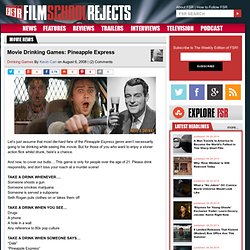 Movie Drinking Games: Pineapple Express
Let's just assume that most die-hard fans of the Pineapple Express genre aren't necessarily going to be drinking while seeing this movie.
There's an absence of interesting TV news today, and I absolutely refuse to write about the Comic-Con schedule (OMG!
'Law & Order: SVU' Drinking Game