Clothing
Craft time / cut an old sweater sleeve and use as sock look-a-like without the bunchy-ness in your boot.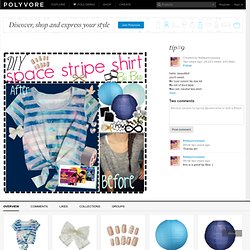 tip#9
hello, beautiful!you'll need:♥a 'cool colors' tie dye kit♥a roll of duct tape♥an old, neutral tee-shirt 1. put even stripes of duct tape around your shirt. you can play around with thickness by cutting the strips in half, doubling the up, etc.2. start dying the shirt. try to do it in random blotches instead of with a pattern for best results.3.wait for the dye to dry.4. simply remove the strips of tape! (optional)5. using fabric paint, dab tiny white dots along the "spacey" stripes. these will turn out to be stars. You're finished!
Last summer, we were obsessed with shibori indigo tie dying. No, really . . . we just about dyed anything white in sight. So when Free People asked us to include a DIY in their guest blogger series, we knew a new tie dye project was absolutely in order. And as the weather is beginning to warm up, what better time than now to start experimenting with reverse tie dye using bleach! Black tees and tops: watch out!
Dip dyed ombré denim has been popping up here and there and not only do we love the look, it's super easy to do yourself! We've combined Tory Burch's dip dyed jeans and Miss Unkon's ombré 501s as inspiration for a pink infused DIY that could be done in a jiffy. Start by rinsing your shorts with water. A bottle of RIT liquid dye amounts to 1 cup; you'll dye your shorts with the lightest shade first and darkest shade last. Pour 1/3 of the cup of dye into 2 gallons of hot water and mix. When dyeing dark denim, you will want to use less water for a darker dye.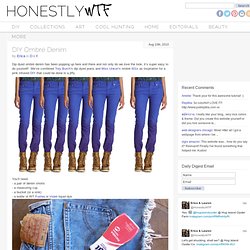 02. how to: make a outer space top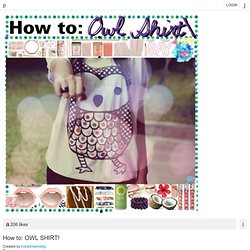 How to: OWL SHIRT!
This is sooo much FUN! x)It does take awhile, so do this project when you have loads of TIME :D---------------------------What you'll need:-Loose pieces of paper-Fabric Glue (if you can't sew or don't have the patience, then use fabric glue instead of sewing)-Scissors-Tape -A loose white t-shirt ! (It can be tight if you want, but the lose ones gives is that hipster feeling x) -Fabric paint - Black fabric paint.
»DIY Chanel shirts
»finally posting the pictures»so basically what my friend and i did was:-buy plain white tees & black fabric markers (from target, walmart, michaels, wherever)-print out black & white symbol from computer-then we took a text book and taped the picture of the symbol onto it.-then we slid the shirt over the book and rubberbanded it tight so the shirt wouldnt slide around-then since the black showed trough the tee shirt we traced out the design & filled it in-then take it off the book & VOILA! (:& feel free to make the designs your own! like i started with a plain eiffel tower but i put lyrics to a french song in the background(:»hope you like them!-Chanel bottle link: http://www.freewebs.com/cleopatrasboudoir/chan4.jpg-My tumblr: s-e-rendipit-y.tumblr.com