Videos
16 Theme Songs From Disney Afternoon Cartoons
Die Körperhaltung ist im Vorstellungsgespräch entscheidend. Welche Sitzpositionen wie wirken, zeigt Trainerin Marion Knaths in der zweiten Folge unserer Video-Serie. Managementtrainerin Marion Knaths über die angemessene Körperhaltung bei Bewerbungsgesprächen.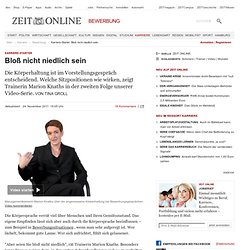 Karriere-Starter: Bloß nicht niedlich sein | Karriere
The Sword Maker
Cynthia Kenyon: Experiments that hint of longer lives
Berufsanfänger: Erfolgstipps für Karriere-Starter | Karriere
In der neuen Videoserie "Karriere-Starter" gibt Marion Knaths Tipps für Job-Einsteiger. In der ersten Folge erklärt sie, worauf es im Vorstellungsgespräch ankommt. In Vorstellungsgesprächen sollten Bewerber sich von ihrer besten Seite zeigen.