Video/Music
Built2go Movie Review. The Hidden Message in Pixar's Films | Science Not Fiction. I love Pixar.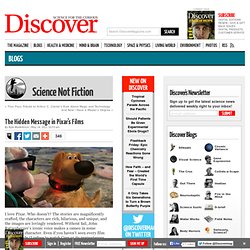 Who doesn't? The stories are magnificently crafted, the characters are rich, hilarious, and unique, and the images are lovingly rendered. Without fail, John Ratzenberger's iconic voice makes a cameo in some boisterous character. Even if you haven't seen every film they've made (I refuse to watch Cars or its preposterous sequel), there is a consistency and quality to Pixar's productions that is hard to deny.
USReplacementForm.pdf (application/pdf Object) Online New age Music - Live365 Internet Radio - Moods of the Moon. CPWSRadio. Find MP3 files with intitle index of and parent directory. My Library. Listentoamovie.com. Movie Sound Clips! - Audio sound clips from your favorite movies and tv shows as well as a free sound effects library! Download YouTube Videos | Youtube Video Downloader | Online Youtube Video Converter.
Literal Videos. News. Super Bowl Ads 2010 [VIDEOS] YouTube delivered on its promise to upload all the Super Bowl Ads as soon as they aired today, with users voting to choose which one will grace the YouTube front page on Thursday.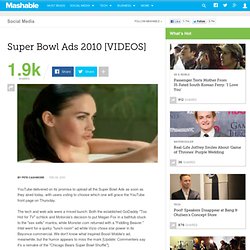 The tech and web ads were a mixed bunch: Both the established GoDaddy "Too Hot for TV" schtick and Motorola's decision to put Megan Fox in a bathtub stuck to the "sex sells" mantra, while Monster.com returned with a "Fiddling Beaver. " Intel went for a quirky "lunch room" ad while Vizio chose star power in its Beyonce commercial. We don't know what inspired Boost Mobile's ad, meanwhile, but the humor appears to miss the mark [Update: Commenters say it's a remake of the "Chicago Bears Super Bowl Shuffle"].
Our favorite: Google's sentimental made-for-web ad — it was promoted to Super Bowl status after its success on YouTube. FLO TV's retrospective on American media is also a very memorable attempt.
---