Politics(and their disenchantment)
Political Tours – Current Affairs at First Hand
Pro-/Contra: Hat die EU ein Demokratiedefizit? NEIN! - Treffpunkt Europa, Magazin der jungen Europäer
Standard-Vorwurf Nr. 1: Die EU ist zu kompliziert und unmöglich zu verstehen, das macht sie undemokratisch. Zum Beispiel: wie wird eine Verordnung oder eine Richtlinie – was für unverständliche Namen!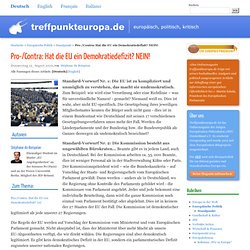 Eine Welt, die uns gefällt | Internationale Politik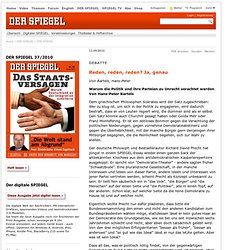 Warum die Politik und ihre Parteien zu Unrecht verachtet werden Von Hans-Peter Bartels Dem griechischen Philosophen Sokrates wird der Satz zugeschrieben: Wer zu klug ist, um sich in der Politik zu engagieren, wird dadurch bestraft, dass er von Leuten regiert wird, die dümmer sind als er selbst.
DER SPIEGEL 37/2010 - Reden, reden, reden? Ja, genau
Leicht ist das nicht.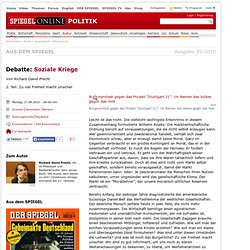 Debatte: Soziale Kriege - SPIEGEL ONLINE - Nachrichten - Politik
Thilo Sarrazin braucht kein Mitleid. Er könnte auch schlecht damit umgehen.
Debatte: Soziale Kriege - SPIEGEL ONLINE - Nachrichten - Politik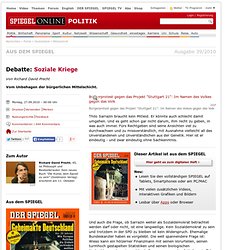 Politics & Society: News About International Affairs and More
Global Policy Forum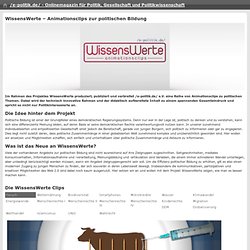 /e-politik.de/ » WissensWerte- Animationsclips zur politischen Bildung
Im Rahmen des Projektes WissensWerte produziert, publiziert und verbreitet /e-politik.de/ e.V. eine Reihe von Animationsclips zu politischen Themen. Dabei wird der technisch innovative Rahmen und der didaktisch aufbereitete Inhalt zu einem spannenden Gesamteindruck und spricht so nicht nur Politikinteressierte an. Die Idee hinter dem Projekt Politische Bildung ist einer der Grundpfeiler eines demokratischen Regierungssystems. Denn nur wer in der Lage ist, politisch zu denken und zu verstehen, kann sich eine differenzierte Meinung bilden, auf deren Basis er seine demokratischen Rechte verantwortungsvoll nutzen kann.
Audio on Demand v1.5.0.2a
Shake Up Democracy | Give Your Vote
Is the CIA Assassination Order of a US Citizen Legal?
This is a rush transcript. Copy may not be in its final form. JUAN GONZALEZ: US officials have confirmed a Yemen-based Muslim cleric has become the first US citizen added to a CIA list of targets for capture or killing.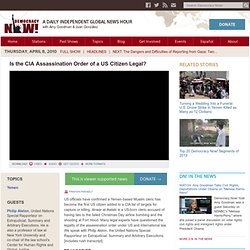 Edition Flint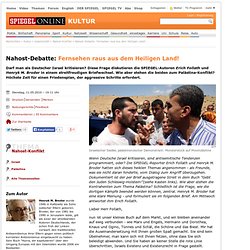 Wenn Deutsche Israel kritisieren, sind antisemitische Tendenzen programmiert, oder?
Nahost-Debatte: Fernsehen raus aus dem Heiligen Land! - SPIEGEL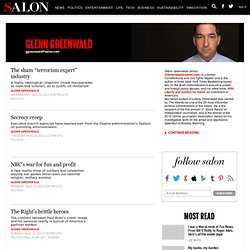 Last day at Salon