Social media discussion
Learn Blogging & Social Media -- Blogging Basics 101. An Insider's Guide to Social Media Etiquette. I receive a lot of questions about various points of etiquette with regards to social media.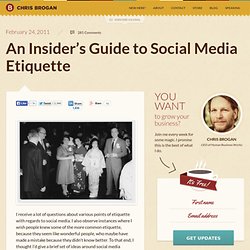 I also observe instances where I wish people knew some of the more common etiquette, because they seem like wonderful people, who maybe have made a mistake because they didn't know better. To that end, I thought I'd give a brief set of ideas around social media etiquette. You're very welcome to add to these in the comments. There will be a mix of do's and don'ts, and remember this above all else: you're doing it wrong.
QR Codes
24 Professional Events & Organizations for Social Media Strategists. The Social Media Strategist Series is supported by StrongMail, which helps marketers forge meaningful, profitable and long-lasting connections with customers through e-mail marketing and social media.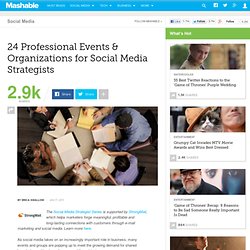 Learn more here. As social media takes on an increasingly important role in business, many events and groups are popping up to meet the growing demand for shared knowledge and best practices around the subject. There are a ton of events out there that cater to digital professionals — in fact, we share a guide to the top 100+ upcoming social media and tech events each week. Here, though, you'll find a list of conferences, meetups and organizations perfect for social media marketers and strategists. Add your own favorites in the comments. How to Gain Competitive Insight With Social Media. Are you looking for that competitive edge?
Want to know what your peers are up to? Using social media to research competitors can provide useful information for any business looking to . 10 Interesting Social Media & Blogging Stats. Social Media Is Free: Social Media Marketing Is Not. I've heard this constantly from self-professed social media marketing "gurus": social media is free!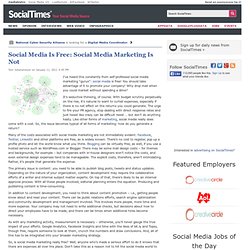 You should take advantage of it to promote your company! Why drop mail when you could market without spending a dime? It's seductive thinking, of course. 5 Key Tips for a Successful Social Media Content Strategy. Frank Marquardt is director of Content Strategy at The Barbarian Group, a digital services and creation company with an almost radical devotion to Internet culture and nice red Swedish Fish™.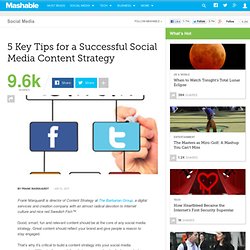 Good, smart, fun and relevant content should be at the core of any social media strategy. Great content should reflect your brand and give people a reason to stay engaged. That's why it's critical to build a content strategy into your social media campaign. Without a framework for what you say and a plan for how and when you say it, you risk leaving your audiences, at best, confused. At worst, they'll ignore you. How much does Social Media cost companies in 2011? | MackCollier.com. UPDATE: If you would like to view my Social Media Consulting Rate Sheet to see what I charge for my services, please click here.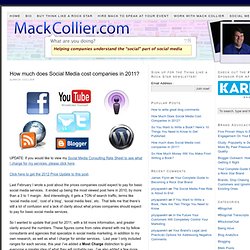 Click here to get the 2012 Price Update to this post. Last February I wrote a post about the prices companies could expect to pay for basic social media services. It ended up being the most viewed post here in 2010, by more than a 3 to 1 margin. And interestingly, it gets a TON of search traffic, terms like 'social media cost', 'cost of a blog', 'social media fees', etc. The 5 Critical Errors Most People Make When they Start Using Social Media for Business. Marketing Magic: How Kraft Built a Thriving Social Community Around Cream Cheese. Asking kitchen-savvy women to not only invent their own dishes, but also shoot, edit and upload videos to a contest website seems like a recipe for disaster.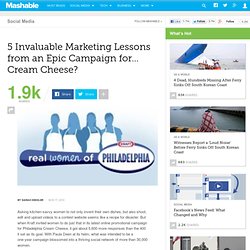 But when Kraft invited women to do just that in its latest online promotional campaign for Philadelphia Cream Cheese, it got about 5,600 more responses than the 400 it set as its goal. With Paula Deen at its helm, what was intended to be a one-year campaign blossomed into a thriving social network of more than 30,000 women. HOW TO: Get the Most From a Small Business Social Media Presence. Scott Gerber is a serial entrepreneur, angel investor, public speaker and author of Never Get a "Real" Job: How to Dump Your Boss, Build a Business and Not Go Broke.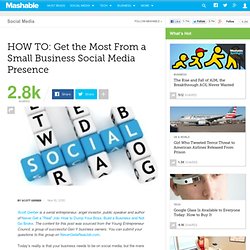 The content for this post was sourced from the Young Entrepreneur Council, a group of successful Gen Y business owners. You can submit your questions to this group on NeverGetaRealJob.com. Today's reality is that your business needs to be on social media, but the mere existence of your business on sites like Facebook and Twitter doesn't guarantee a single sale, or even a single referral. In order for businesses to succeed in the social media space, they need to be properly educated on what works and what doesn't. 8 Social Media Metrics You Should Be Measuring. Do you think social media measurement is only about return on investment (ROI)?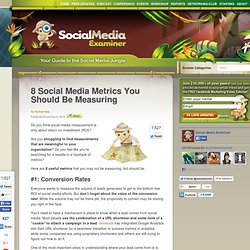 Are you struggling to find measurements that are meaningful to your organization? Do you feel like you're searching for a needle in a haystack of metrics? Here are 8 useful metrics that you may not be measuring, but should be. B2B Social Media Resources. People ask me about business-to-business social media questions all the time.
I usually have great answers, and then they ask me about case studies. At moments like that, I just dip into my collection of case studies on Delicious. How Social Media Marketers Can Convert Attention Into Action. Brian Solis is the author of Engage, and a leading authority in digital branding and marketing. Connect with him on Twitter or Facebook. According to a recent report, while upwards of 70% of businesses are said to operate under a formalized social media strategy, many plans don't include measurable goals.
Gimmicks, viral videos, and creative campaigns aside, social media marketers must learn to introduce "clicks to action" and outcomes that steer consumer experiences toward desirable results. Engagement through conversation is a start, but reaching people where their attention is focused and compelling them to take an action is powerful. Clearly defined objectives and milestones, combined with a little conversion science, will increase the value of engagement and drive desired outcomes. Social Media Metrics. If you want good social media metrics to track, be sure to pick the right ones. A quick disclaimer: it depends what you're hoping to accomplish as to which metrics you might want to track.
I'll give you my take, and what we tend to work from at New Marketing Labs, and then you're welcome to point out different opinions in the comments section. Social Media Metrics? First, which metrics from social media do you think are important to begin with? Why Building a Community is So Hard for Business Bloggers. One of the challenges that business bloggers tend to have is with community building. Few comments, lack of social proof, and low traffic can be major morale busters. Business blogs start off on a high note, but over the months when little to no activity or traffic is realized, they get abandoned by their owners. I don't blame them - who wants to maintain a blog that's a virtual ghost town? Established Businesses. Online Database of Social Media Research.
How to Create Social Media Business Guidelines. Social media policies and guidelines provide your business a framework to carry out your social media strategy and implement your social media tactics. They can also have a direct impact on the success of your social media endeavors. In this article, I'll introduce you to social media guidelines for all your employees and your social media management team, and for crisis management and specific platforms.
I'll also take a look at important considerations for big and small businesses. Advantages of Social Media Guidelines Here are four major benefits: Seven Important Social Media Trends For The Next Year. Social media changes from month to month. Trends come and go quicker than the seasons change. The latest trendy site could be next year's Myspace and the hottest new site probably hasn't even been conceived yet or is at the couple of guys in a garage stage. Having said that there are some trends that I think will continue over the coming year and with that in mind I wanted to share them here. Rather than focusing in on the finer detail I have compiled the list below in broader terms with all the main players represented. All in all it should be an exiting year ahead in social media and these should be seven of the main trends…
Going Beyond Social Media Reach. 10 Emerging Social Platforms and How Businesses Can Use Them. How to Measure Social Media's Impact on Customer Retention. How to tell if your Company is Advanced: 10 Criteria Of Social Business Maturity. HOW TO: Respond when Social Media Attacks Your Brand. Are You Using Social Media as Social Proof? How Big Brands Employ Social Media Marketing - An Andy Sernovitz Interview. 9 Ways to Sell Social Media to Executives.
7 Steps to Measuring Your Brand's Social Media Health. Gap Offers 25% Discount for Foursquare Checkins. Checkins + Group Buying = Location-Based Swarm Deals. How Facebook Changes Marketing And Sales - Forbes.com. Spying On Competition Using Social Media. Introducing Social Media Examiner TV. Why Foursquare Drives Business: What You Need to Know. Top 16 Unusual Foursquare Badges. The Most Popular Brands on Foursquare. 12 Social Media Monitoring Tools Reviewed. Why You Need to Monitor and Measure Your Brand on Social Media. Get People to "Like" Your Facebook Page. 10 Tips for Corporate Blogging. Event Marketing With Social Media. 7 Social Marketing Strategy Mistakes That Cripple Your Reputation.
The Real Life Social Network v2. When YOU Are the Brand. The Myth of Beautiful Website Design. 5 Things I Learned In My First (Almost) Two Years Of (Almost) Fu. 7 Ways Journalists Can Use Foursquare. Top 5 Social Media Myths Debunked. Social Media Stats | Get On The Map. 4 Ways Measure Social Media and Its Impact on Your Brand | Socia. How Real Estate Pros are Using Social Media for Real Results.
Beyond the Checkin: Where Location-Based Social Networks Should.
---