SEO
What Everyone Needs To Know About Good, Bad & Bland Links. Links are always a popular topic, and this year has proven no exception including Penguin, links vs. social media, negative SEO and disavowing links.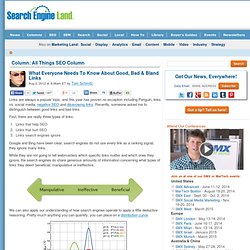 Recently, someone asked me to distinguish between good links and bad links. First, there are really three types of links: The 6 Month Link Building Plan for an Established Website. You've probably seen the extremely comprehensive noob guide to online marketing by Oli Gardner, or the companion noob guide to link building from Mike King, you've also likely seen one of the many posts or presentations on SEO for startups (here, here and here) - suffice to say there is plenty of reading material for building new web properties but what about link building for an established website?
There are an abundance of link opportunities (and challenges) that are pretty unique to an established website. I decided to compile a public Trello board which is based on some of our internal boards for clients to help you to visualise the process I am about to run through. Please bear in mind that this is not a six-month SEO plan so we won't be covering site audits or keyword research for example (although you should read this post if you are planning to conduct an SEO audit), I will be focusing on the acquisition and optimisation of links and content for links.
Perfecting On-Page Optimization for Ecommerce Websites. The author's posts are entirely his or her own (excluding the unlikely event of hypnosis) and may not always reflect the views of Moz.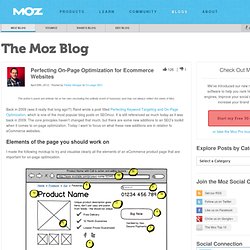 Back in 2009 (was it really that long ago?!) Rand wrote a post titled Perfecting Keyword Targeting and On-Page Optimization, which is one of the most popular blog posts on SEOmoz. Google Replacing Titles with URLs (Why Titles Matter) The other day I noticed something strange happening.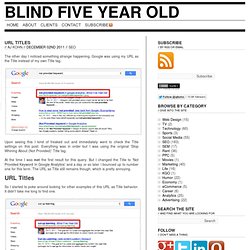 Google was using my URL as the Title instead of my own Title tag. Upon seeing this I kind of freaked out and immediately went to check the Title settings on this post. SEO 101 Resources: Beginner's Guides and Tutorials. HOW TO: Leverage LinkedIn for Your SEO Campaign. Erin Everhart is the director of web and social media marketing at the digital marketing and web design company, 352 Media Group.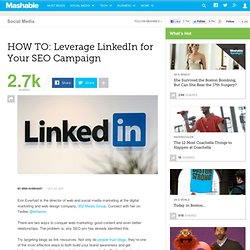 Connect with her on Twitter @erinever. There are two ways to conquer web marketing: good content and even better relationships. Social Media and SEO Part 2 : Optimising Youtube. In part 2 of our social media and SEO guide, we look at some of the top ways to optimise your content on Youtube, across video uploads as well as channel optimisiation.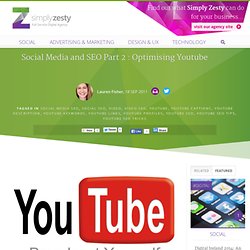 Getting your SEO right on Youtube is as important as any other platform, but with Google including Yotube video results on their main search results pages, it's possibly even more important that your content is well optimised. Online video is getting increasingly competitive, so follow these tips to give your content every chance of getting found. Google +1 And The Rise of Social SEO.
The author's posts are entirely his or her own (excluding the unlikely event of hypnosis) and may not always reflect the views of Moz.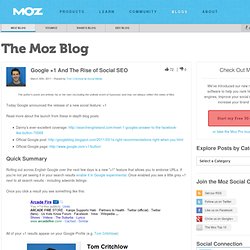 Today Google announced the release of a new social feature: +1 Read more about the launch from these in-depth blog posts: Quick Summary Rolling out across English Google over the next few days is a new "+1" feature that allows you to endorse URLs. If you're not yet seeing it in your search results enable it in Google experimental. Google +1 SEO Advantages and Implementation. Google +1 is the latest Google tool.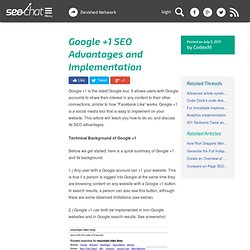 It allows users with Google accounts to share their interest in any content to their other connections, similar to how "Facebook Like" works. Google +1 is a social media tool that is easy to implement on your website. This article will teach you how to do so, and discuss its SEO advantages. Technical Background of Google +1 Before we get started, here is a quick summary of Google +1 and its background: Hack it, Break it, Fix it! — The Next Corner. The Periodic Table Of SEO Ranking Factors. How to Use Advanced Segments in Google Analytics to Isolate SEO Problems [Tutorial]
A New Era Of Search Is About The Answers, Not Just The Links. Editor's note: The following guest post is written by Shashi Seth, the senior vice president of Search products at Yahoo!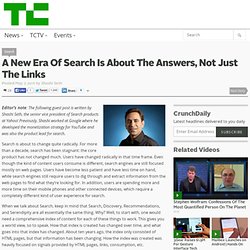 Previously, Shashi worked at Google where he developed the monetization strategy for YouTube and was also the product lead for search. Search is about to change quite radically. For more than a decade, search has been stagnant: the core product has not changed much. Users have changed radically in that time frame. SERPs As One Of The Factors For Measuring The Success Of The SEO Campaign In The Long Run. We SEOs know that once the client signs the SEO Contract – The expectations are: Page 1 Position 1 ranking on the search engines andLoads of target traffic with conversions taking place regularly.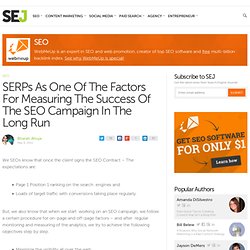 But, we also know that when we start working on an SEO campaign, we follow a certain procedure for on-page and off-page factors – and after regular monitoring and measuring of the analytics, we try to achieve the following objectives step by step. Maximize the visibility all over the webWork on the website to making it more rich in content and error free HTMLSolve cannonical issuesEliminate duplicate content issuesAdd more meaning to the images of the websiteWork on many other technical aspects of the website like HTTP headers, 404 pages, 301 redirects etc.Help establish an online brandHelp establish a good online reputation The main goal is to achieve targeted traffic and we all know a high CTR is possible when your website ranks on page 1 and preferably on first three positions.
HOW TO: Search Google Efficiently in 3 Easy Steps. Finding exactly what you're looking for through Google can be a rather hectic experience. We tend to pick broad, random search terms hoping we'll find something close to our objective. We then start clicking through the results, then click through the search suggestions, then the related searches, and on and on…until we forget where we started and are at a loss at how to proceed.
This post is aimed at offering a good actionable system through three definitive three steps to finding what you need: Step 1. Shortest Tutorial Ever on SEO (Search Engine Optimization) I've gotten a few questions from a number of companies recently that basically ask "What is the shortest thing I can read that will help me get started on search engine optimization? ". Here is my response for how to optimize one page of your website very quickly. Repeat for other pages as desired. I have also included links to a bunch of other materials after the article if you want to learn more. SEO Demystified. SEO (Search Engine Optimization) can seem so mysterious and complicated that a lot of business bloggers would prefer to ignore it and hope their content somehow optimizes itself.
But it doesn't have to complicated. Recently I listened to a podcast episode of Internet Marketing for Smart People published by Copyblogger and Brian Clark. The subject was SEO and really, how simple it is. SEO Is Not Cookie Cutter. One thing you need to know about SEO is that it takes time to make it work. How much do you value your time? When you price out search engine optimization services and think you're getting a great deal you might actually just be getting a great deal of headache down the road. The thing that separates good from bad in the SEO world is not usually seen with the naked eye. The two parts to SEO consists of work that is performed on-page as well as work that is performed off-page. On-page is taken care of initially, making sure that your website communicates effectively to the search engines, telling them exactly what your company does, services it provides, etc.
Duplicate Content Phantom: Don't Be Duped, Be Informed. Duplicate content has always been a hot topic among webmasters; mostly because no one really knows what it is and the rumors persist. And Google doesn't help much either. Sometimes, I think of it as a hyperactive 3 year-old, who is incredibly sharp in some areas, but not so much in others. So the best way to go is to keep it simple, stay under the radar, and shoot for the middle of the road. With that said, let's figure out what duplicate content is, what it isn't, and what you should do to stay on top of it. What is duplicate content?
Keyword Research: Analyzing the Important Factors that Contribute to Online Marketing Success. Free SEO Software Tool & Text Browser, Search Engine Optimization Tools - SEO Browser. Free SEO Software Tool & Text Browser, Search Engine Optimization Tools - SEO Browser. Free SEO Software Tool & Text Browser, Search Engine Optimization Tools - SEO Browser. 5 Free Tools for Competitor Keyword Research. Google Becomes Social – Twitter Flickr And Quora Are All Invited. JC Penny's Black Hat SEO Backfires. Strategies To Sharpen Your Keyword List. How to Use Google Adwords Keyword Tool - Step by Step Guide. SEO Toolbar for Firefox | Download the Free mozBar SEO Plugin.
How to Optimize Your Blog for Google. How to Write Effectively for the Web. SEO Checklist Part 2: Best Practices. WordPress SEO. SEO Pricing & Costs - What Should You Charge / How Much Should You Pay? Search Engine Optimization. 12 Days of Blogging 2010: 9 SEOers Optimizing — BlogWorld Expo Blog. How to Lower Your Bounce Rate Using Google Analytics. SEO: The Free Beginner?s Guide From SEOmoz. Linking Out from Your Blog? 4 Ways to Choose the Best External Links. 15 Minute SEO List. Ann Smarty, SEO Expert, Shares Her Secrets. Search Analysis with Google Analytics.
---