Recipes
Just in time for Thanksgiving, here's an adapted version of my popular Cheesecake in-a-jar recipe, this time with pumpkin, and with a crust made from ginger snaps. It's a perfect make-ahead dessert recipe that comes together super quickly in your food processor. Plus, you can gather up cute jars and vintage glasses in your collection to bake these little cheesecakes in. Here I baked mine in these adorable tea-colored vintage glasses (about 7oz or 20cl) I found at Stripe in Santa Cruz. These cheesecakes bake in a low oven in a water bath, so most thick-ish glasses or jars you have around should work fine.
Pumpkin Cheesecake in-a-jar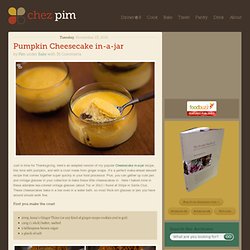 Make this today. Sorry to be bossy. But this is important. I whipped up this casserole yesterday and loved it.
Creamy Chicken Spaghetti Casserole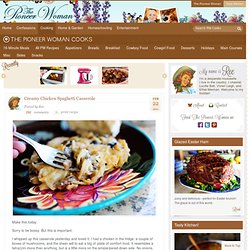 I'm cooking some new recipes today (my kitchen is already a disaster. please send help. thank you.) and will have one up tomorrow, but in the meantime, here's a little treat from my mom's trusty church cookbook from the old country. They're quick and easy (and make-ahead) frozen ice cream cups that you can dress up or down according to your schedule…and appetite. Switch up the ice cream flavor if that makes you happy…or add in different nuts and candy bars as you see fit. (I repeat this in my note below, but you'll want to use a sturdy cupcake liner so it'll peel off easily. If you meet with any resistance as you're peeling them off, just wait, take a breath, count to twenty-seven, then try again.) I made these before I left on my trip a couple of weeks ago, and when I returned yesterday there was still one in the original Ziploc in which I stored them.
Frozen Cappuccino Cups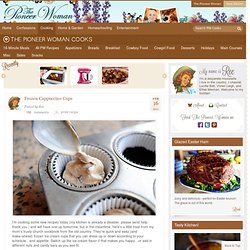 Heather says: I was introduced to the awesome that is Nutella last January. Since then, I've slowly been leaving my old peanut butter ways and finding more chances to bring Nutella into day-to-day life. I was looking over which cookies to include in this year's Sweets for the Season when it hit me. Why not use Nutella in my favorite cookie of all? If the Santa Claus in your household is a fan of Nutella and a fan of No Bake Oatmeal Cookies, I can pretty much guarantee extra presents for the good little boy or girl who leaves Nutella No Bake Oatmeal cookies out with a glass of milk.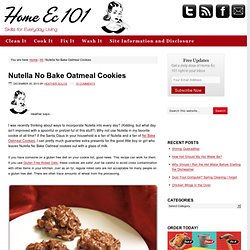 Nutella No Bake Oatmeal Cookies
That Recipe for Baked Potato Soup I Promised You. And You. And You. • Crash Test Mommy
When I was small, I remember my mom making this decadent recipe on special occasions. She made it for Christmas morning sometimes, and we often ate it when my Grandma visited. If we were going to be home on Christmas morning, we'd be eating this for sure. Except, we won't be home, we'll be traveling.
Mom's French Toast Casserole | Feels Like Home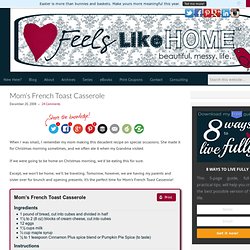 While we're on the subject of soups, I thought it would be nice to share my SECRET recipe for the most KILLER Garlic Bread. What goes better with soups than garlic bread? Not much! My neighbor taught me to add dill in the garlic butter. It's what makes this garlic bread killer.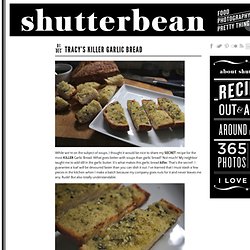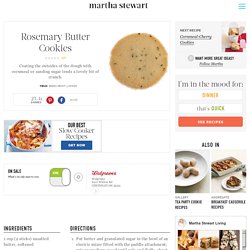 Rosemary Butter Cookies
Save to your Collections Sorry for the inconvenience! Saving is temporarily unavailable as we work through a few kinks in our new recipe design (we hope you like it!).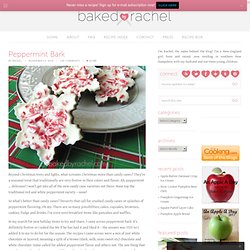 Peppermint Bark
Peppermint Bark Beyond Christmas trees and lights, what screams Christmas more than candy canes? They're a seasonal treat that traditionally are very festive in their colors and flavor. Ah, peppermint … delicious! I won't get into all of the new candy cane varieties out there.
Restaurant-Quality Crockpot Tomato Soup Recipe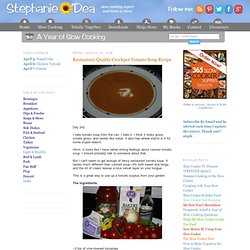 Day 242. I hate tomato soup from the can. I hate it.
10 Pumpkin Recipes For Fall
Apples dipped in HEAVEN
September 30, 2010 by Missy I have a thing for apple orchards. I recently had my family pictures taken at one ( by the talented Amy Lynn ) and just three days ago I went on my yearly trip out to buy apples with my aunt at a different orchard.
Recipe Search Recipe Types: Appetizers , Beef , Breads , Breakfast , Candy , Chicken , Cookies , Cupcakes , Desserts , Dips , Dishes , Drinks , Healthy Apps , Healthy Dishes , Healthy Drinks , Healthy Mains , Healthy Sides , Healthy Snacks , Healthy Soups, Salads, Sauces , Holiday Breads , Holiday Breakfast , Holiday Desserts , Holiday Main Dishes , Holiday Recipes , Holiday Salads , Holiday Sides , Holiday Soups , How To's , Main Dishes , Pasta , Pies and Tarts , Salads , Sandwiches , Sauces & Dressings , Seafood , Side Dishes , Snacks , Soups and Stews , Spreads Apologies, but the page you requested could not be found.
Vietnamese Iced Coffee At Home « Dishin and Dishes
The Crock Pot Recipe Blog
Many fans of Starbucks' Pumpkin Spice Latte eagerly wait for it to show up on menus again in the fall, and it made its annual re-appearance last week. However, for those of us on a budget, those little cups of spicy goodness can add up. Making your own at home will not only save you money, but you can also enjoy them year-round.
DIY Recipe: Pumpkin Spice Latte (Just Like Starbucks!) | Apartment Therapy The Kitchn
Pesto Chicken Tortellini Soup
I am rejoicing this week because I finally won a food victory in our house. After years of trying different soups on my family, we have finally settled on a soup that the whole family will eat. And not just eat, but LOVED to eat. A soup that every single family member asked for seconds on, quietly slurped away with no noise at the table, and all asked for seconds on. If I had ever been a good cheerleader, I would have done a high kick and had us build a tower together because I was really that pumped. My parents can attest to the fact that I had great spirit, but was no cheerleader, so you will just have to pretend that this really happened.
Heather says: Why would anyone want to cut up a whole chicken? It's a useful skill to have, I tend to buy whatever is on sale and if whole chickens are on sale that week, then I load up.
How to Cut Up a Whole Chicken, a Knife Skills Tutorial
I Baked a Mini Cherry Pie Into a Dark Chocolate Cupcake | Slog | The Stranger, Seattle's Only Newspaper
I was thinking of making the Cherpumple for a friend's birthday, but it looks, well, disgusting (plus all the ingredients would've cost well over $50). So I decided to find out if I could successfully shrink it down to a handheld size by putting a mini cherry pie into a dark chocolate cupcake and topping with vanilla bean butter cream. Not only can it be done, but it's delicious... and pretty! For my next trick, I'd like to bake a half dozen of these into a 10" cheesecake. For the ultimate Turducken experience.
Mozzarella, Basil, Tomato Grilled Cheese Bruschetta: Mini Homemade Pizza
Dr. Pepper Barbecue Sauce Recipe
Grownup Popsicle Recipe: Boozy Campari Citrus Pops | Apartment Therapy The Kitchn