FB Welcome Pages
Facebook Pages changes;- SSL Certificate requirements that you need to know about | iLocal Search | Local Search Marketing Made Easy For The Small Business Owner | Facebook recently announced a major change which will be implemented later this year;- A valid SSL Certificate for Facebook Pages will be mandatory from 1st October 2011 if the Page has customization and is hosted outside of Facebook.
So what does this mean for the Facebook Page owner and the Facebook Page visitor? Firstly, no doubt there will be a heap of prowling, noise making sharks ready to take your money just as there was when Facebook announced it was stepping away from FBML in favor of iFrames back in March 2011. Read on and don't be duped by these prowling, noise makers! What is a SSL Certificate? Facebook Secure Browsing HTTPS, iFrame Tabs & Mixed Content Warnings. One of the big developments in the March 2011 Facebook Page overhaul was support for iFrames in Fan Page custom tabs.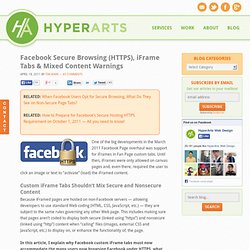 Until then, iFrames were only allowed on canvas pages and, even there, required the user to click an image or text to "activate" (load) the iFramed content. Custom iFrame Tabs Shouldn't Mix Secure and Nonsecure Content. Facebook Fan Page Tabs: Redirect Users to Different Tab after Liking. 20 Awesome Facebook Fan Pages.
Facebook is a key online marketing tool for businesses-;if utilized to its fullest it can drive increased traffic to your website, generate additional sales, promote brand recognition and loyalty, and provide you with a direct communication link to your clients and customers.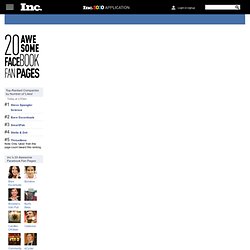 Here's 20 companies-;chosen from nominations by entrepreneurs, social media experts, Inc. editors, and Facebook-;that we think have awesome fan pages. Vote for your favorites by clicking the "Like" button on this page. How To Build Your Facebook Landing Page (If You?re Not A Programmer) | SocialMouths.
Update: As you know Facebook no longer supports FBML for its tabs, which is what this post was based on, but there is an updated post about How to build a Facebook Landing Page with iFrames – Don't miss it!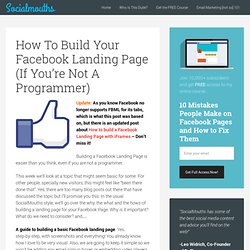 Building a Facebook Landing Page is easier than you think, even if you are not a programmer. This week we'll look at a topic that might seem basic for some. For other people, specially new visitors, this might feel like "been there done that".
---