FB video
Get flash to fully experience Pearltrees
We've talked a lot at ReelSEO about Facebook video marketing and video apps, so it was only a matter of time before we combined all the options into one big list. So here you go, our ReelSEO Show Reel of Facebook Video Apps , with a myriad ways you can integrate video into your own Facebook Pages! Driven by a singular goal to corner the market on this info, yet not so driven that we're bothering to do our own review and testing of every Facebook video app out there, I've put togethera list of video apps that I think are beneficial for your Facebook video marketing needs. Our description length for each video app can run from super-short phrase to a long paragraph. The original copy right from their respective Facebook pages is what has been included. I've done my best to create a comprehensive list excluding those that didn't work or had awful reviews - yes, I tested every one of them.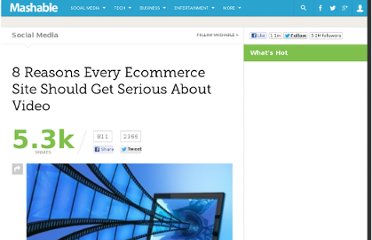 Yaniv Axen has served as the CTO of SundaySky since cofounding the company. He manages technological concerns for strategic customers, directs the patent application process for SundaySky's solutions and facilitates key partnerships. The truth about doing business online today is that for many companies, increasing market share requires winning customers from competitors. Using online video to build business is one tactic that has been rapidly gaining popularity in the past few years.
[Because she does such great videos for her own business, I invited Heather Thomas to submit a guest post about different uses for video in promoting your small business.
Vlogging is something I've tried a few times, but I'm just not comfortable in front of the camera. I'm working on it, but it's a struggle. For all you extroverts and interested parties out there, though, I think you'll find today's links especially helpful if you want to try your hand at vlogging (video blogging).
Some Facebook users — myself formerly among them — are obsessive profile tweakers. We edit our list of interests. We reorganize our photo albums and experiment with awesome profile photo hacks . We weigh carefully whether we want to "Like" this Page or that, because we wonder how that information will be inferred. And we're always just a little bit, well, bored with our profiles.
No amount of sophisticated technology will ever take the place of connecting live, in person. When we're with someone in person, we can feel their energy, watch their body language, and look into their eyes . When it comes to technology, though, the next best thing to connecting with people in person is… VIDEO! With video, you can look into the lens of the camera and talk with your viewers just as if you were sitting down for a cuppa coffee… or a glass of wine in Gary Vaynerchuk 's case!! Adding video to your social media marketing dramatically enhances your relationship with your community – your friends, fans, followers, subscribers will feel *much* closer to you.