AIO fan pages
Get flash to fully experience Pearltrees
Facebook is testing another tool for p age administrators that at first glance looks like a reinstatement of something previously available: the ability to exchange private messages with members of the social network, with a couple of twists not available previously. The social network had recently revoked page admins' ability to send messages to individual users; this newest test feature enables pages to receive messages from individual users via a link on the page. The button also enables people who aren't yet fans to send messages to the admin, which hadn't been available in the previous incarnation of messaging for pages.
Recent changes made by Facebook eliminated a special exemption given to pharma and healthcare pages, which allowed them to block all commenting on their Wall posts. That changed a week ago . Some companies responded to the change by eliminating their pages, while others have embraced the change (if reluctantly) and have begun to engage with people on Facebook (see which pages did what here ).
Do your landing page offers generate a high conversion rate but few actual leads?
The following is an excerpt of entry in our Facebook Marketing Bible .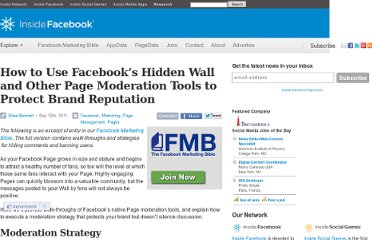 Facebook is currently rolling out a change to the home page of Page administrators.
Timeline Cover Photo and 180 x 180 profile image!
Facebook has added a new "Merge" option to the Resources tab of the Page editor. It allows Page administrators to apply to roll extra duplicate Pages they admin into their primary Page, adding the fans and check-ins of the duplicate Pages to the primary Page. Facebook has privately done some mergers of community Pages into official Pages in the past for prominent celebrities and businesses, but the option has never before been publicly available.
The following is an excerpt of a complete article available in our Facebook Marketing Bible .