Grundlegendes
The 100 Best Web 2.0 Classroom Tools Chosen By You. The Wordle of this list!
(Click image to enlarge) One of the most popular posts on Edudemic in 2010 was The 35 Best Web 2.0 Classroom Tools Chosen By You and I felt it might be time for an update to that list for 2011. In order to put together a list of the best Web 2.0 classroom tools, I polled my Twitter followers, Facebook fans (are they still called fans? 30 Online Multimedia Resources for PBL and Flipped Classrooms. Welcome to the third in a series of PBL Mania Posts.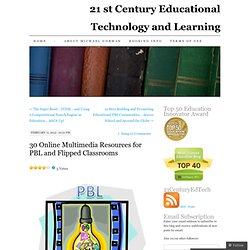 For the next few weeks I am celebrating Project Based Learning. In this post I will introduce you to some multimedia mega-sites found on the web that can be used in the PBL classroom. 20 Must-Have Educational Resources For All Teachers. Edudemic often features posts providing a list of top resources for a particular category.
Recently, the site gettingsmart.com posted the names of the LAUNCHedu finalists chosen by the SXSWedu® Conference, offering even more resources for the Edudemic staff to consider! On March 7, 2012, they will choose winners after a full day of presentations by the finalists. There are so many sites and programs on the Internet already, but this competition just goes to show that the need for educational resources is still great. Necessity is the mother of invention, they say. 30 Web 2.0 Tools for Teachers. Top 10 Reasons to Use Technology in Education: iPad, Tablet, Computer, Listening Centers | WWW-HowToUseFacebook.Com. Paper, we don't need no paper! Tools and tips for going paperless.
Going paperless - it's good for the trees, good for budgets, increases efficiency and organization, and makes life easier in many ways.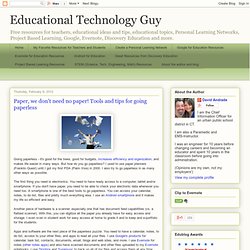 But how do you go paperless? I used to use paper planners (Franklin Quest) until I got my first PDA (Palm IIIxe) in 2000. I also try to go paperless in as many other ways as possible. The first thing you need is electronics. You need to have ready access to a computer, tablet and/or smartphone. Web 2.0 Tools in Education: A Quick Guide by Mohamed Amin Embi.
Digital Differentiation. Technology is a tool that can be used to help teachers facilitate learning experiences that address the diverse learning needs of all students and help them develop 21st Century Skills.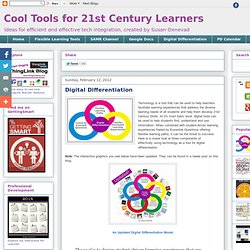 At it's most basic level, digital tools can be used to help students find, understand and use information. When combined with student-driven learning experiences fueled by Essential Questions offering flexible learning paths, it can be the ticket to success.
---