Texts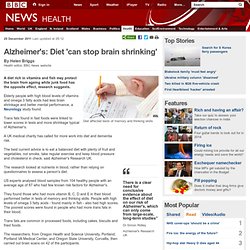 29 December 2011 Last updated at 05:12 GMT By Helen Briggs Health editor, BBC News website Diet affected tests of memory and thinking skills A diet rich in vitamins and fish may protect the brain from ageing while junk food has the opposite effect, research suggests. Elderly people with high blood levels of vitamins and omega 3 fatty acids had less brain shrinkage and better mental performance, a Neurology study found. Trans fats found in fast foods were linked to lower scores in tests and more shrinkage typical of Alzheimer's.
Alzheimer's: Diet 'can stop brain shrinking'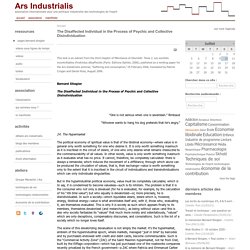 This text is an extract from the third chapter of Mécréance et Discrédit: Tome 2. Les sociétés incontrôlables d'individus désaffectés (Paris: Editions Galilée, 2006), published as a working paper for the Ars Industrialis seminar, "Suffering and consumption," 25 February 2006, translated by Patrick Crogan and Daniel Ross, August 2006. "One is not serious when one is seventeen." Rimbaud "Whoever wants to hang his dog pretends that he's angry."
The Disaffected Individual in the Process of Psychic and Collective Disindividuation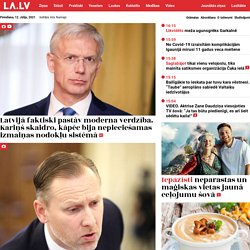 Trenējam pelēkās šūniņas
Fantastikas filmās redzētas ierīces cilvēka intelektuālā potenciāla uzlabošanai. Uzliek galvā ķiveri ar vadiņiem, pašķīst dzirksteles, un pēc brīža no krēsla pieceļas ģēnijs... Izrādās, smadzeņu darbību veicinošas tehnoloģijas ir realitāte un jau divus gadus pieejamas arī Latvijā. Protams, superspējas tās nesola, bet gaišāku galvu – gan. Nolēmām pārbaudīt, kā tās darbojas.
<a href="//ad.doubleclick.net/jump/teg.tdqk/llsk/a;subs=n;wsub=n;sdn=n;!c=21529014;dcopt=ist;pos=ldr_top;sz=728x90,970x90,970x250;tile=1;ord=206232039?" target="_blank"><img src="//ad.doubleclick.net/ad/teg.tdqk/llsk/a;subs=n;wsub=n;sdn=n;!
Reforming education: The great schools revolution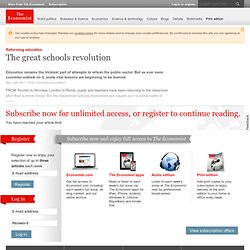 Vispirms kā traģēdija, pēc tam kā farss | scenāriji.lv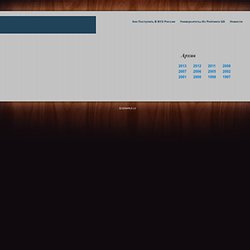 Slavojs Žižeks: Rietumu ekonomika ir mainījusi savu formu. Patērējot tu mūsdienās nopērc arī atpestīšanu no lomas būt tikai par patērētāju. Agrāk, tā dēvētajos vecajos laikos, opozīcija starp naudas darījumiem un to, ko tu dari sabiedrības labā, bija tipiska.
Általában azok az ötletek a legjobbak, amelyek akkor jutnak az eszembe, amikor nem is számítok rá. Így esett ez tegnap is, amikor csak előszedtem a dekorációs dobozomat és megnéztem mi van itthon. Minimális akaraterőt igényel a nekiveselkedés ehhez a kedves cukorkatartó dekorációhoz. Kis ragasztó, WC-papír guriga és olló biztosan akad a háznál. Minden egyebet pedig cifrázhatunk ízlés szerint.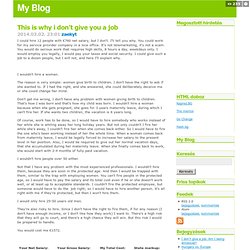 This is why I don't give you a job - Andor Jakab
I can't believe how pro-government interventionist the views are here. Sure the guy's rant was over the top, but isn't this Economics 101? Arn't all the added costs the government puts on hiring workers perfectly reflected in the supply demand curve resolution? You might not hear about it all that much because it isn't cool to blog about it, but doesn't it make sense that women make less money when, on average, it costs more to hire them?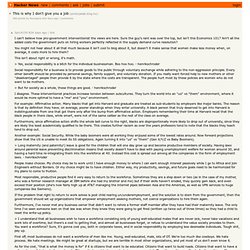 This is why I don't give you a job
A Pazar Cuccok valamint neves hazai grafikusok összefogtak, hogy közösen – hímestojásonként 1000 Ft-tal – támogassák a SOTE I. sz. Szülészeti és Nőgyógyászati Klinika újszülött intenzív osztályát . Gyorsan jött ez a húsvét is, szinte szánkóval. Kész rohanás megint minden valahogy, de azért sütemény és kalács nélkül nem ünnep az ünnep. Szerencsére nagyon sok szakács és gasztroblogger barátunk van.
I don't give a job. Am I being antisocial? - Andor Jakab