Freeware
GBESoft. Quite-rss - RSS/Atom feed reader. VETUSWARE.COM - the biggest free abandonware collection in the universe. Architecture et aménagement, les meilleurs logiciels gratuits. Tous les meilleurs logiciels gratuits - Introduction. Tom's Guide vous propose de retrouver la compilation des logiciels indispensables pour vous constituer une logithèque ultime, complète et gratuite !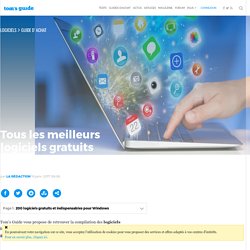 Au total, plus de 100 programmes sont mis en avant. Des gratuits à la hauteur des payants ? Nous vous présentons donc le Top des logiciels gratuits dans plus d'une quinzaine de catégories, de la bureautique aux messageries en passant par les jeux, les outils de sécurité (à ne surtout pas sous-estimer !) Et tout ce qui concerne la gestion et la retouche multimédia (photo, vidéo). PopTrayU - An Email Notifier for Windows. Lingoes -- free dictionary and full text translation software. Rainlendar. Gestion de Compte Bancaire gratuit. Tous les meilleurs logiciels gratuits - Introduction. 8PECX Studios » Cyberfox Web Browser. Quite-rss - RSS/Atom feed reader.
Cryptage
Image. Windows 8 Transformation Pack 6.0 | Theme My PC. Windows 8 Transformation Pack 6.0 will transform your Windows 7/Vista/XP user interface to Windows 8.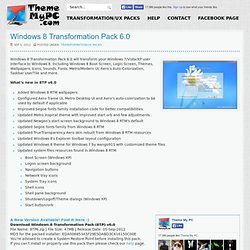 Including Windows 8 Boot Screen, Login Screen, Themes, Wallpapers, Icons, Sounds, Fonts, Metro/Modern UI, Aero's Auto-Colorization, Taskbar UserTile and more. What's new in 8TP v6.0.
Passion Net - Une réponse à vos questions. Freewares & Tutos. PC Astuces : Logithèque et Téléchargements. Tous vos logiciels à télécharger sans attendre - quetelecharger.com. Télécharger des logiciels gratuit - Toocharger.com.
RaVision. Logiciels libres, services et ressources du libre. Framasoft - Logiciels libres. AIMP 3.20 Build 1163 Final Colok Traductions. Logiciels Logement (dont ArchiFacile) Aménager son logement Voici une sélection d'outils pour vous permettre de dessiner les plans de votre futur bien immobilier et d'imaginer son organisation (meubles, décoration, électroménager).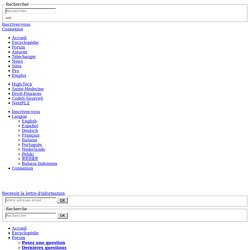 Ces logiciels et services Web sont relativement intuitifs à utiliser, même pour des gens sans connaissance informatique. Archifacile Ce logiciel est assez limité, mais très léger et pratique. Il ne pèse que 547 Ko, est compatible Windows XP, Vista et 7.
Jeux. My Portable Software. DVD Chief - DVD and Movie Organizer software. MyCinema | Logiciel gratuit de gestion de votre vidéothèque. ScoreDate. ScoreDate is your date with the music !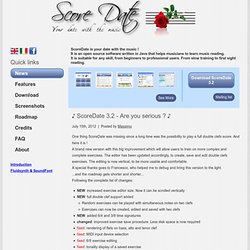 It is an open source software written in Java that helps musicians to learn music reading. It is suitable for any skill, from beginners to professional users. From slow training to first sight reading. ♪ ScoreDate 3.2 - Are you serious ? ♪ BD / Livres. Réseau. Utilitaires.
---