Gadgets pour site
Eyedropper - Télécharger
Introducing the Facebook Connect phpBB Module
Wednesday, 16 February 2011 13:56 Scott Reimers For a couple years now I have been trying to help a young man earn a living. This involved working with him in some very unusual constraints due to his health and life situation. Unfortunately this person (dev) has made a lot of consistently bad choices and is no longer in a position to honor his commitments... which means either I must honor them for him or admit that I can't afford to. PFBC has never broken the bank. Our average month would net about $150.
QRhacker met de la couleur dans les QR codes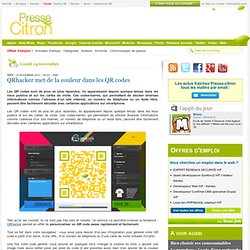 Lundi 14 novembre Web 2.0 - 14 novembre 2011 :: 09:23 :: Par Camille Les QR codes sont de plus en plus répandus, ils apparaissent depuis quelque temps dans les lieux publics et sur les cartes de visite. Ces codes-barres, qui permettent de stocker diverses informations comme l'adresse d'un site internet, un numéro de téléphone ou un texte libre, peuvent être facilement décodés avec certaines applications sur smartphone.
Comment intégrer Facebook Connect à vos applications Web? « So@t blog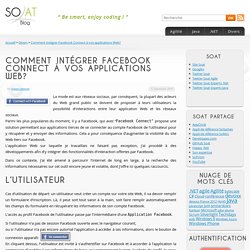 12 septembre 2010 La mode est aux réseaux sociaux, par conséquent, la plupart des acteurs du Web grand public se doivent de proposer à leurs utilisateurs la possibilité d'interactions entre leur application Web et les réseaux sociaux. Parmi les plus populaires du moment, il y a Facebook, qui avec "Facebook Connect" propose une solution permettant aux applications tierces de se connecter au compte Facebook de l'utilisateur pour y récupérer et y envoyer des informations. Cela a pour conséquence d'augmenter la visibilité du site Web tiers sur Facebook.
Réalisation de sites internet à Paris
Wordle is a toy for generating "word clouds" from text that you provide. The clouds give greater prominence to words that appear more frequently in the source text. You can tweak your clouds with different fonts, layouts, and color schemes. The images you create with Wordle are yours to use however you like.