CMS
Joomla!
Voilà une question que se posent certaines personnes. Quel CMS choisir pour créer son site ou son blog ? Ma réponse est tout simplement WordPress, parce qu'il est facile à installer, à utiliser, à modifier et à référencer sur Internet. Faisons le point sur le choix de ce CMS et ses possibilités (idéal pour apprendre à connaître WP).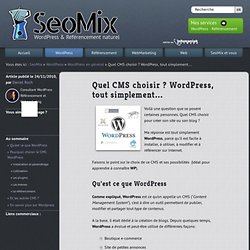 Quel CMS choisir ?
SPIP
ez publish
Drupal - Open Source CMS
WordPress
BuddyPress
Free Wordpress Template - Theme gratuit Wordpress
Créer un site | Template gratuit, créer un site web gratuit flash Wix
13 plugins WordPress pour gérer votre webzine | Mylène Boyrie - Édition print et web à Bordeaux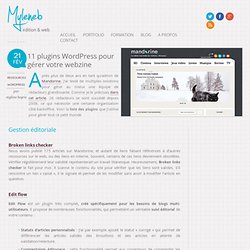 Gestion éditoriale Broken links checker Nous avons publié 175 articles sur Mandorine, et autant de liens faisant références à d'autres ressources sur le web, ou des liens en interne.
Créez votre thème Wordpress de A à Z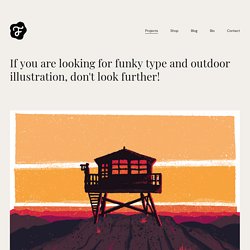 Update du 5 Octobre 2011: les tutoriels ont beau datés de 2007, ils sont en cours de modifications pour y ajouter les fonctionnalités des dernières versions de WordPress. Quoi qu'il en soit, ils sont toujours d'actualité et ont été mis à jour plusieurs fois. Peut-être que vous aimeriez créer votre propre thème pour votre blog et que vous ne savez pas trop comment vous y prendre ?
the Open Source Content Management System / CMS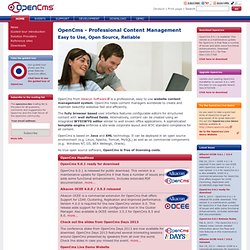 Easy to Use, Open Source, Reliable OpenCms from Alkacon Software is a professional, easy to use website content management system. OpenCms helps content managers worldwide to create and maintain beautiful websites fast and efficiently. The fully browser based user interface features configurable editors for structured content with well defined fields.