Productivity
Is Getting Things Done Out of Date? « LazyMeter
For a conversation on productivity, there's no better place to start than Getting Things Done: The Art of Stress-Free Productivity by David Allen . Dubbed "The personal productivity guru" by Fast Company, Mr. Allen has sold over a million copies of his book in over 30 languages. His iconic status can be seen in the fact that he has over 1.4 million twitter followers ( @GTDGuy ). The Life Management Problem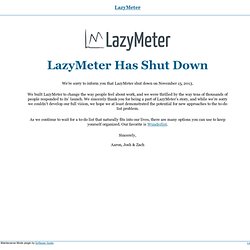 LazyMeter
How to Change Habits « LazyMeter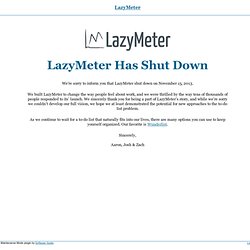 Last night, ZenHabits writer Leo Babauta spoke at a Habit Design meetup in San Francisco. Leo is an expert in habit change, replacing his smoking addiction with running, losing 65 pounds, becoming a vegan, mastering blogging and much more . His advice on how to change habits got us thinking about how LazyMeter can be used as a tool in the process. If you're interested in changing a habit, here's a summary of Leo's advice: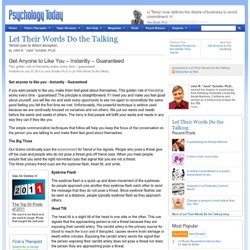 Get anyone to like you - Instantly - Guaranteed If you want people to like you, make them feel good about themselves. This golden rule of friendship works every time - guaranteed! The principle is straightforward. If I meet you and make you feel good about yourself, you will like me and seek every opportunity to see me again to reconstitute the same good feeling you felt the first time we met. Unfortunately, this powerful technique is seldom used because we are continually focused on ourselves and not others.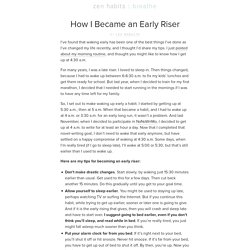 By Leo Babauta I've found that waking early has been one of the best things I've done as I've changed my life recently, and I thought I'd share my tips. I just posted about my morning routine , and thought you might like to know how I get up at 4:30 a.m. For many years, I was a late riser. I loved to sleep in.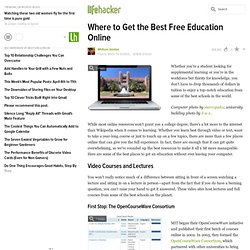 Whether you're a student looking for supplemental learning or you're in the workforce but thirsty for knowledge, you don't have to drop thousands of dollars in tuition to enjoy a top-notch education from some of the best schools in the world. Computer photo by marcopako ; university building photo by J-a-x . While most online resources won't grant you a college degree, there's a lot more to the internet than Wikipedia when it comes to learning. Whether you learn best through video or text, want to take a year-long course or just to touch up on a few topics, there are more than a few places online that can give you the full experience. In fact, there are enough that it can get quite overwhelming, so we've rounded up the best resources to make it all a bit more manageable. Here are some of the best places to get an education without ever leaving your computer.
How I Got My Publishing Deal (Beautiful Serendipity)
Unleash an Avalanche of Productivity