Other
OverAPI.com | Collecting all the cheat sheets. All The Cheat Sheets That A Web Developer Needs. Mega Collection Of Cheatsheets for Designers And Developers. Cheatsheets and various quick reference guides are available for almost any type of software and language these days.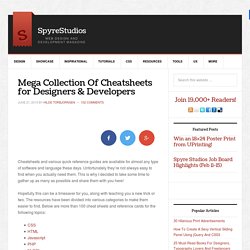 Unfortunately they're not always easy to find when you actually need them. This is why I decided to take some time to gather up as many as possible and share them with you here! Hopefully this can be a timesaver for you, along with teaching you a new trick or two. The resources have been divided into various categories to make them easier to find. Below are more than 100 cheat sheets and reference cards for the following topics: CSE 190 M, Summer 2010. Hot Scripts - The net's largest PHP, CGI, Perl, JavaScript and ASP script collection and resource web portal. 20 Elegant Fonts for Clean Design.
Whether it's textures, Photoshop brushes, or icons, we love finding top notch free files and sharing them with our readers.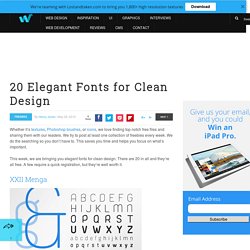 We try to post at least one collection of freebies every week. We do the searching so you don't have to. This saves you time and helps you focus on what's important. Design and Code Your First Website in Easy to Understand Steps. In this tutorial, we're going to design and code our first website in simple, easy steps.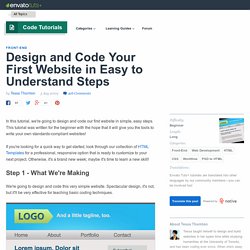 This tutorial was written for the beginner with the hope that it will give you the tools to write your own standards-compliant websites! It's a brand new week; maybe it's time to learn a new skill! Step 1 - What We're Making.
---