Windows Developer
Visual Studio Magazine's 2012 Readers Choice Awards and Buyers Guide. Visual Studio 2010 and .NET Framework 4 Training Kit. Visual Studio Walkthroughs. Downloads | Microsoft Visual Studio 2012. MSDN – Explore Windows, Web, Cloud, and Windows Phone Software Development. MSDN – Explore Desktop, Web, Cloud, and Phone Software Development. Building Windows 8. Building Windows for the ARM processor architecture - Building Windows 8. One of the notable aspects of Microsoft Windows has been the flexibility the architecture has shown through shifts in technology and expansion of customer usage over time.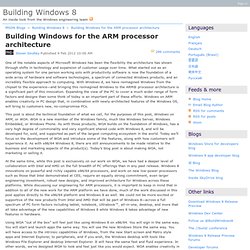 What started out as an operating system for one person working solo with productivity software is now the foundation of a wide array of hardware and software technologies, a spectrum of connected Windows products, and an incredibly flexible approach to computing. With Windows 8, we have reimagined Windows from the chipset to the experience—and bringing this reimagined Windows to the ARM® processor architecture is a significant part of this innovation.
Expanding the view of the PC to cover a much wider range of form factors and designs than some think of today is an important part of these efforts. Windows on ARM enables creativity in PC design that, in combination with newly architected features of the Windows OS, will bring to customers new, no-compromise PCs.
---