Sandwiches
Garlic-Rubbed Grilled Cheese with Bacon and Tomatoes. Roasted Tomato and Sweet Onion Tuna Melts Recipe. Turkey & Tomato Panini Recipe. Ingredients 3 Tbsp reduced-fat mayonnaise2 Tbsp plain non-fat yogurt2 Tbsp shredded parmesan cheese2 Tbsp chopped fresh basil1 tsp lemon juice freshly ground pepper to taste8 slices whole-wheat bread8 oz thinly sliced reduced-sodium deli turkey8 slices tomato2 tsp canola oil Directions 1.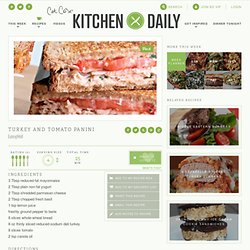 BLT with Avocado and Pink Chili Mayo Recipe. Italian Vegetable Hoagies Recipe. Ingredients ¼ cup thinly sliced red onion, separated into rings14 oz artichoke hearts, rinsed and coarsely chopped1 medium tomato, seeded and diced2 Tbsp balsamic vinegar1 Tbsp extra virgin olive oil1 tsp dried oregano1 16- to 20-inch-long baguette, preferably whole-grain2 oz 2 slices provolone cheese (about 2 ounces), halved2 cup shredded romaine lettuce¼ cup sliced pepperoncini (optional) Directions 1.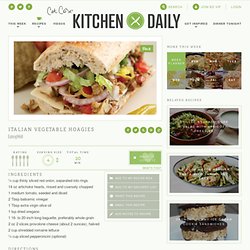 Place onion rings in a small bowl and add cold water to cover. Set aside while you prepare the remaining ingredients. Eggplant and Provolone Panini Recipe. Ham, Gruyere, Honey, and Red Onion Panini Recipe. Creamy Avocado & White Bean Wrap Recipe.
Ingredients 2 Tbsp cider vinegar1 Tbsp canola oil2 tsp finely chopped canned chipotle chili in adobo sauce (see Note)¼ tsp salt2 cup shredded red cabbage1 medium carrot, shredded¼ cup chopped fresh cilantro1 can 15-ounce can white beans, rinsed1 ripe avocado½ cup shredded sharp cheddar cheese2 Tbsp minced red onion4 8- to 10-inch whole-wheat wraps or tortillas Directions 1.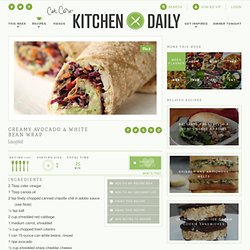 Whisk vinegar, oil, chipotle chile and salt in a medium bowl.
---