Storytime Resources
Librarian Storytime blogs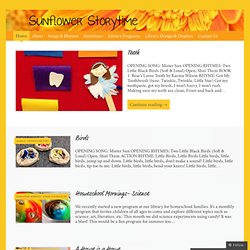 unnamed pearl
OPENING SONG: Can't Wait to Celebrate BOOK 1: Dog in Boots by Greg Gormley RHYMES:Shoe PrintsHere's one foot, here are two Both are wearing "brand new" shoes So you stand up, turn around, Dance across the floor, That's what these new shoes are for! You can change brand new to whatever sounds fun (ballet, mud-stomping, dinosaur, etc).
I am so excited to share this next activity. This has been one of Rosie's all time favorites so far, and it really is sure to delight and WOW any child. MAGIC Treasure Rocks What could be more fun than Magic FIZZING Rocks with treasures hidden inside? Rosie was seriously in awe! Making these magical rocks is easy and the activity has elements of science, sensory, and imaginative play, too.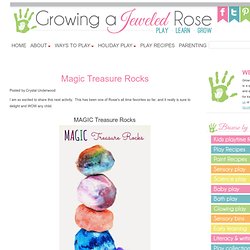 Magic Treasure Rocks
Storytime with Miss Tara and Friends
We talked briefly about being thankful and about what makes Thanksgiving fun! *I am thankful for my co-workers who help me with props and puppets so that stories really come to life: Me (Miss Tara) Lesley Erica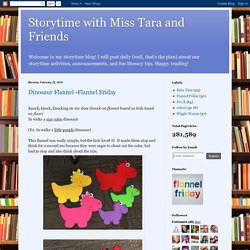 Winter It's winter in Iowa. Blizzards, melting and extreme weather are the norm. KinderNature has many activities for winter. Try blowing bubbles outside…see what happens. Here are some winter facts about how animals survive in the winter.
KinderNature :: A Resource For Childhood Educators brought to you by Story County Conservation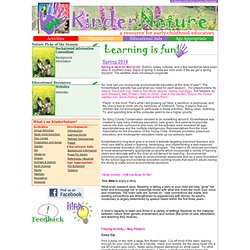 Written By: Patty Zeitlin Copyright: Unknown There are lots of worms under the ground Lots of worms wiggling around I know they're way down there digging around Way under, way under the ground If you hear a sound from under a mound A funny sound way down in the ground You know it's squirmy worms just squirming around Way under, way under the ground There are lots of worms under the ground Lots of worms wiggling around I know they're way down there digging around Way under, way under the ground So dig a hole into the ground Reach down there and feel around You'll find great big worms, by the pound Way under, way under the ground
Squirming Worms song and lyrics from KIDiddles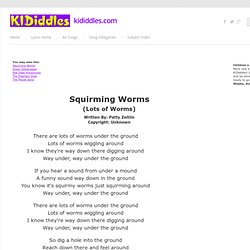 NurseryRhymeBooklet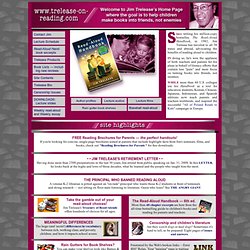 ince writing his million-copy bestseller, The Read-Aloud Handbook, in 1982, Jim Trelease has traveled to all 50 states and abroad, advocating the benefits of reading aloud to children. IN doing so, he's won the applause of both teachers and parents for his pleas in behalf of literacy efforts that contain less "pain" and more focus on turning books into friends, not enemies. WHILE more than 60 U.S. colleges use his Handbook as a text for education students, Korean, Chinese, Japanese, Indonesian, and Spanish editions now reach parents and teachers worldwide, and inspired the successful "All of Poland Reads to Kids" campaign in Europe.
Jim Trelease's Home Page
Where the Wild Things Are Movie and Book Drawing Wallpapers (All Sizes) « Digital Citizen
This is a far better collection of wallpapers than that on the Where the Wild Things Are movie website because there are: Wallpapers for more monitor sizes, including gigantic wide screen 2560 x 1600 pixels, and other wide screens like 1920 x 1200 pixels and 1440 x 960 pixels. More images from movie scenes, like book illustrations, the video game and fan art.
The Perpetual Preschool
Welcome to Making Learning Fun: An early childhood education website filled with free printables designed to do just that, make learning fun! Whether you are a parent, teacher, or childcare care provider, you'll love our site filled with educational printables and activities for the children you love. You'll find that pre-kindergarten through first grade students will enjoy our activities most, but you'll find yourself having fun too! For learning tips follow the link for Making Learning Fun: The Blog Supporting this site: Making Learning Fun seeks to provide free learning activities to early childhood educators.
The Activity Idea Place - preschool themes & lesson plans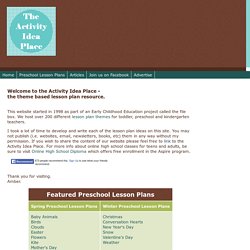 Welcome to the Activity Idea Place - the theme based lesson plan resource. This website started in 1998 as part of an Early Childhood Education project called the file box. We host over 200 different lesson plan themes for toddler, preschool and kindergarten teachers.
SurLaLune Storytime: Home
Advertisement. (Already a member? Click here.) Enchanted Learning - Home Page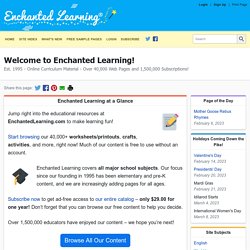 Preschool Activities and Crafts
First-School features free fun preschool lesson plans, educational early childhood activities, printable crafts, worksheets, calendar of events and other resources for children of preschool age. The preschool crafts, lesson plans and activities are appropriate and adaptable for toddlers, preschoolers and kindergarten level (ages 2 to 6). First-School's content is ideal for home schooling, preschool and kindergarten teachers, daycare, child care providers, after-school and babysitters. How to use and have fun in First-School:
ACL - Association of Children's Librarians of Northern California - BayNews Storytime Ideas
Song Pages With Songs to listen to. Listen to the melodies of your favorite kids' songs.
Children's Songs with free lyrics, downloadable kids' music, kids' songs and printable Song Sheets, from KIDiddles. - songs and lyrics from KIDiddles
Storytime Year Links
Home Sing a Song of Storytime A Storytime Year Workshop & Conference Information New Fingerplays New Stories
Online Story Time Preschool Activities and Crafts
Crafts: Decorations on HighlightsKids.com
These crafts projects use materials found around the house, like egg cartons, cardboard, paper, boxes, string, crayons, paint, glue, etc. See a page about color mixing to see how to combine paint to make all the colors of the rainbow. Crafts for Kids: Click on any of the crafts to go to the instructions. Have fun!