Poss Metadata Srces
[ISI Highly Cited Researchers Version 1.5] Welcome to Highly Cited Research from Thomson Reuters Once achieved, the Highly Cited designation is retained.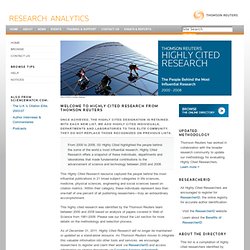 With each new list, we add Highly Cited individuals, departments and laboratories to this elite community. ISIHighlyCited.com - Finding Citation Counts Using Web of Science and Other Sources - LibGuides at WSU Libraries at Washington State University. Indian Ocean Tsunami Disaster December 2004: a Select Guide - University at Buffalo Libraries. Indian Ocean Tsunami Disaster December 26, 2004 and Reconstruction History & Events (Including Current)
ITIC :: About ITIC :: 2011 Sendai earthquake and tsunami. The 2011 earthquake off the Pacific coast of Tōhoku (東北地方太平洋沖地震, Tōhoku-chihō Taiheiyō Oki Jishin?)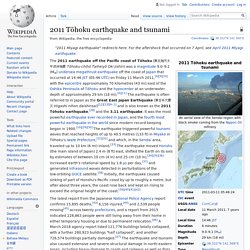 Was a magnitude 9.0 (Mw) undersea megathrust earthquake off the coast of Japan that occurred at 14:46 JST (05:46 UTC) on Friday 11 March 2011,[2][3][8] with the epicentre approximately 70 kilometres (43 mi) east of the Oshika Peninsula of Tōhoku and the hypocenter at an underwater depth of approximately 30 km (19 mi).[2][9] The earthquake is also often referred to in Japan as the Great East Japan Earthquake (東日本大震災, Higashi nihon daishinsai?) [10][11][12][fn 1] and also known as the 2011 Tohoku earthquake,[13] and the 3.11 Earthquake. Fulltext Sources Online. Weather. Digital Collections & Programs. DataONE.
---