Game development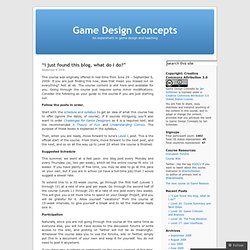 When veteran gamers or game designers are playing a game, if they are doing too well or too poorly, they will often comment on the game's balance. This word is important, but I fear it is often overused. Like the word "fun," there are different kinds of balance, and understanding what game balance is and why it's important is what we cover today. Why are we only covering this now and not earlier (like, say, at the start of the Design Project)? As mentioned earlier, balancing the game is something that is best left until after you have a good set of core mechanics.
Finished Games
Most high school computer programming classes end in an ISP, ISU, or a science fair type of a design project. A good computer science project topic could be a challenge to come up with, though it usually ends up involving some video game ideas. So if you want to impress your friends, get a killer grade, or simply want to pass that programming course you were too late to drop – read on for suggestions. Beginner video game project ideas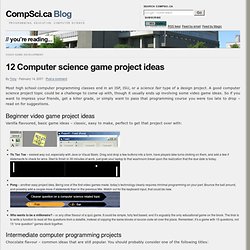 12 Computer science game project ideas | CompSci.ca/blog
100 Highest Rated Game Engines
Begining Game Development
C++ Game Programming
C++ Video Tutorials: Game Programming Playlist
April 19th, 2014 (3 comments) Konami UK have announced that two pretty sweet Silent Hill titles will be coming to Playstation Vita. The massively under-appreciated...
Player Attack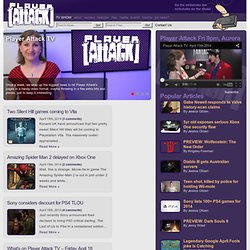 The Indian animation industry encompasses both 2D traditional, and 3D animation, as well as visual effects for feature films. Although India's film industry has a long history, it is a relatively newcomer to the field of animation. History[edit] The first stop-motion film was made by Dadasheb Phalke in the silent era. The first animated films from India were produced in the 1930s. In 1956, Disney Studios animator Clair Weeks, who had worked on Bambi, was invited to Films Division of India in Mumbai to establish and train the country's first animation studio as part of the American Technical Co-Operation mission.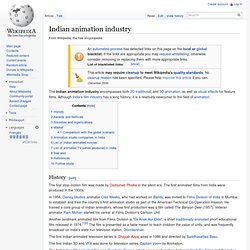 Indian animation industry
Gamersofindia - One of the best & fastest growing gaming community of India
Know some C++? Want to learn how to program in 3D? You've come to the right place! Designed to be understandable to beginners, but advanced enough for experienced developers, the free video tutorials here will get you started making 3D programs using OpenGL and GLUT in no time.
OpenGL Video Tutorial - Home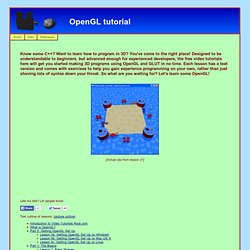 DarkBASIC allows you to create your own games, demos, slideshows, even business applications using the easy to understand BASIC programming language. Even if you've never coded before, just follow the in-depth tutorials and you'll be generating results in minutes! Harness the power of Direct X and make 3D objects come to life in just a few simple commands. All games created with DarkBASIC are license and royalty FREE! All games can be distributed as a stand alone executable!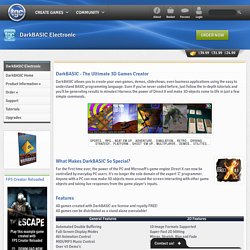 DarkBASIC Electronic - The Game Creators