Maya
"Rapid Rig: Basic" for Maya - Free Character Scripts
The rapid rig is a tool designed to bridge the gap between character modeling and character animation. Using the user interface, the script enables the user to set up a bi-pedal character skeleton and rig in minutes, a process which can otherwise take up to several days. Using the script, follow each step in the interface.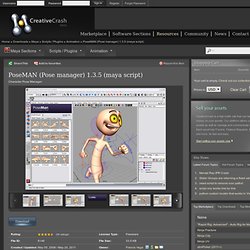 Hi all, new release of PoseMan 2 (beta) DOWNLOAD LAST VERSION As allways, C&C (and bugs) are welcome :) ----------------- ----------------- --------------------------------------------------- * I'm rewriting PoseMan 2.0 from scratch (python) working fine in Maya 2011 and new Qt interface. More info, screens, wish list, etc... at poseman facebook page and cgtalk thread ----------------- ----------------- --------------------------------------------------- PoseMan Pose manager for Maya www.inartx.com/poseman/ Follow PoseMan at FACEBOOK
PoseMAN (Pose manager) - Free Animation Scripts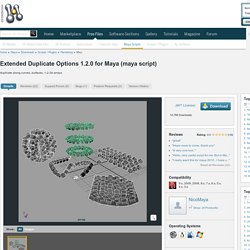 -------------------------------------------------------- Description: -------------------------------------------------------- This script add in the standard duplicate options: - duplicate total transform: duplicate a single DAG object on a 1, 2 or 3 dimensional array with the 3 simple space description: "cubic", "cylindrical" and "spherical". - duplicate along nurbs curves: duplicate a single DAG object on a ensemble of selected nurbs curves.
Extended Duplicate Options - Free Utility / External Scripts
AdvancedSkeleton - Free Animation Scripts / Plugins Feature Requests for Maya
shotView - Free Animation Scripts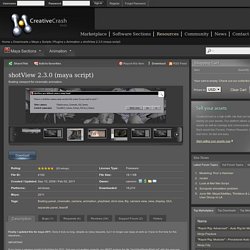 Finally I updated this for maya 2011. Sorry it took so long, despite so many requests, but I no longer use maya at work so I have to find time for this elsewhere. .. If you have a previous install of shotView for 2011, that was not working correctly, you MUST replace the file "shotViewDisplayPrefs.txt" with the new one included in this download. This fixes the compatability issues with the new GUI in 2011. As usual, any issues you can e-mail me and I will address them if I can.
Cas auto uv mapper - Free Texturing Scripts
Cas auto uv mapper version 1.13 Please note that this version of the tool only works with the following Maya versions: 8.5 Sp1 2008 , 2008 extension1 , 2008 extension2 2008 x64, 2008 extension1 x64, 2008 extension2 x64,
MG-SelectionSet. Save selection as MGselectonset then you use it whatever you want ,sets are external .set files which you can share with different maya. Create and manager a set are much easier than maya shelf.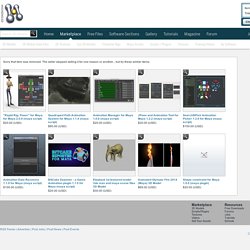 Maya Animator Kit: MGtools pro - Animation Scripts / Plugins for Maya
tf_smoothSkinWeight - Free Character Scripts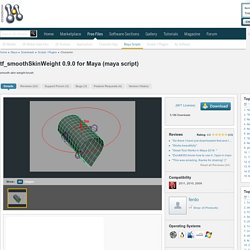 Description : This is a custom Maya brush which makes smoothing skin weights very fast and easy to do. Because it smooths all influences at once there is not the typical normalization problem which the standard Maya smooth skin brush has (normalize = interactive). When normalization is on post, the result gets not smooth immediatley, so you would have to switch between all influences to get it really smooth. With tf_smoothSkinWeight.py you get in both situations a smooth and correct result immediately. Benefits: - smooth weights with a few strokes - saves a lot of time - weights all joints at once - no need to worry about normalization - creates a really nice and smooth weight-transition
autoArm - Free Character Scripts
UVDeluxe - Free Texturing Scripts
UV Deluxe is a collection of UV tools that I have put together because I found these features missing in Maya. Some of them, like moving UV shells already exist in other scripts, but I wanted to make one toolbox to contain everything I find useful. It has been an ongoing project since the summer of 2010. After placing the contents of the zip in your scripts folder, start the script using: from UVDeluxe import uvdeluxe uvdeluxe.createUI()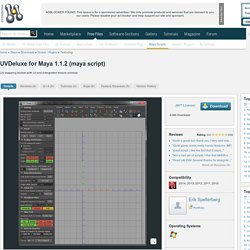 CG:SKEELOGY - Muskeelar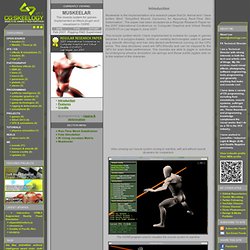 Introduction Muskeelar is the implementation of a research paper that Dr. Ashraf and I have written titled "Simplified Muscle Dynamics for Appealing Real-TIme Skin Deformation". The paper has been accepted as a Regular Research Paper for the 2007 International Conference on Computer Graphics and Virtual Reality (CGVR'07) in Las Vegas in June 2007. This muscle system which I have implemented is suitable for usage in games because it is polygon-based, builds on existing technologies used in games (e.g. smooth skinning) and has very decent performance running on the CPU alone. The data structures used are GPU-friendly and can be mapped to the GPU for even faster performance.
A Comprehensive Look at Hard Surface Modeling for Video Games on Vimeo
Sculpt and paint a tree troll in Mudbox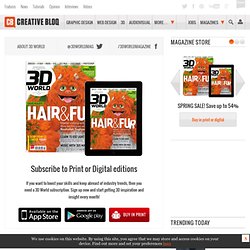 Craig Barr presents his workflow for combining organic and hard surfaces within the same creature design. This video accompanies a tutorial in 3D World issue 141, where you'll find additional context and detail for this project. The scene files for this tutorial are on the disc included with the issue. Craig's also created bonus videos showing key techniques in more detail: we've provided these on a separate page so you can have them handy while you watch the main video tutorial.
One way to create dirt has already been covered, and that's photo overlays. Those are great for general wear and tear on your texture. If you want small specific details, you'll need to use other techniques.
There is no shadows. How do I get shadows? setting of the light First of all, you should set the shadow to the light. Turn on Use Depth Map Shadows or Use Ray Trace Shadows They are turned off in the default.
Maya FAQ: How do I get shadows? - maya blog: maya tutorials and maya information: 3D CG labo
Daniil Alikov 3D artist - Making of "Still life with black pepper"
Create a switchable IK/FK character rig in Maya
Chad Robert Morgan shows you how scripting can help you establish a rig that transitions smoothly between animation states. This video accompanies a tutorial in 3D World issue 141, where you'll find additional context and detail for this project. The scene files for this tutorial are on the disc included with the issue.
Mozilla Firefox
"Rigging a basic fish for Maya" By Kiel Figgins www.3dfiggins.com Introduction In a number of recent projects, I've been tasked with animating ambient fish. Typically these fish are for background elements or adding little details to puddles or ponds. From doing so I've come up with a fairly straight forward approach to getting a fish up and swimming in no time.
navigate
PEN Productions / Bella Sara
How to create a working piston using Maya | Wonder How To
Build a Reusable Light Rig in Maya
Daniil Alikov 3D artist - Making of "Still life with black pepper"
Softimage|FACE ROBOT
3D animator/ modeler/rigger
Blake Character Rig Overview
blend shapes
Victor Vinyals Character Character Rig Animation Reel
Digital Environment Workflow
Eric Hanson
Digital-Tutors's videos on Vimeo