Internet Privacy
Internet privacy. Internet privacy involves the right or mandate of personal privacy concerning the storing, repurposing, provision to third-parties, and displaying of information pertaining to oneself via the Internet.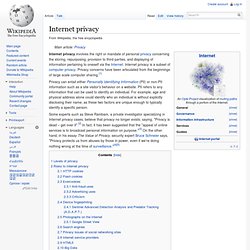 Internet privacy is a subset of computer privacy. Privacy concerns have been articulated from the beginnings of large scale computer sharing.[1] Privacy can entail either Personally Identifying Information (PII) or non-PII information such as a site visitor's behavior on a website. PII refers to any information that can be used to identify an individual. Isafety. Guide to Practical Privacy Tools.
Disclaimer: EPIC does not lobby for, consult, or advise companies, nor do we endorse specific products or services.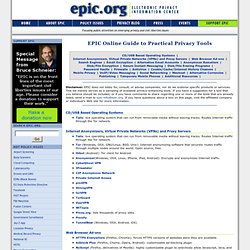 This list merely serves as a sampling of available privacy-enhancing tools. If you have a suggestion for a tool that you believe should be included, or if you have comments to share regarding one or more of the tools that are already listed, send e-mail to epic-info@epic.org. If you have questions about a tool on this page, visit the affiliated company or individual's Web site for more information. CD/USB Based Operating Systems Tails: live operating system that can run from removable media without leaving tracks.
A Pocket Guide to Social Media and Kids. Pete Blackshaw, Executive Vice President, Digital Strategic Services, The Nielsen Company SUMMARY: When is a phone not a phone?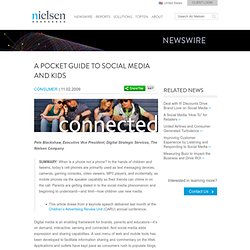 In the hands of children and tweens, today's cell phones are primarily used as text messaging devices, cameras, gaming consoles, video viewers, MP3 players, and incidentally, as mobile phones via the speaker capability so their friends can chime in on the call. Parents are getting dialed in to the social media phenomenon and beginning to understand—and limit—how children use new media.This article draws from a keynote speech delivered last month at the Children's Advertising Review Unit (CARU) annual conference. A Parent's Guide to Social Networking. Social networking sites, chat rooms, virtual worlds, and blogs are how teens and tweens socialize online; it's important to help your child learn how to navigate these spaces safely.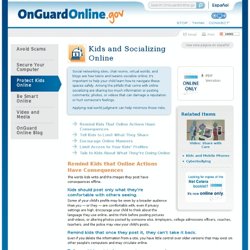 Among the pitfalls that come with online socializing are sharing too much information or posting comments, photos, or videos that can damage a reputation or hurt someone's feelings. Applying real-world judgment can help minimize those risks. Remind Kids that Online Actions Have Consequences The words kids write and the images they post have consequences offline. Chat with Kids. The Net Cetera Community Outreach Toolkit helps you provide the people in your community with information about protecting kids online.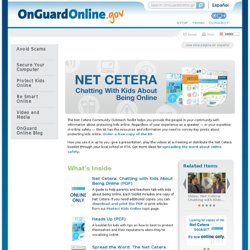 Regardless of your experience as a speaker — or your expertise in online safety — this kit has the resources and information you need to convey key points about protecting kids online. Order a free copy of the kit . How you use it is up to you: give a presentation, play the videos at a meeting or distribute the Net Cetera booklet through your local school or PTA. Get more ideas for spreading the word about online safety . Online Privacy: Using the Internet Safely | Privacy Rights Clear. Copyright © 1995 - 2014Privacy Rights Clearinghouse Introduction Introduction As consumers increasingly go online in so many aspects of their daily lives, the challenge is enjoy the conveniences of online activities while limiting the privacy sacrifices.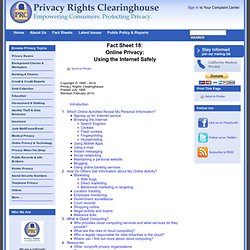 As the focus of online activity migrates from desktop and laptop computers to smartphones and other mobile devices, the mechanisms for protecting your privacy continue to evolve. Most internet users would like to be anonymous online, but many think it is not possible to be completely anonymous online. Broadband - OnGuard Online. You can get high-speed internet access through a variety of services, including: digital subscriber line (DSL) cable fiber optic satellite.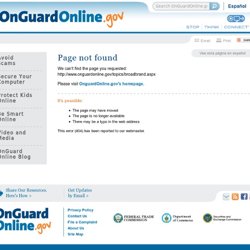 Identity Theft - OnGuard Online. Privacy Paradox. Teenagers will freely give up personal information to join social networks on the Internet.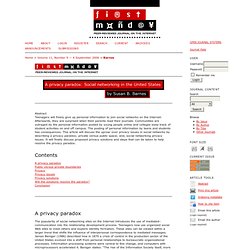 Afterwards, they are surprised when their parents read their journals. Communities are outraged by the personal information posted by young people online and colleges keep track of student activities on and off campus. Privacy and Social Networks. Google Opt Out Feature Lets Users Protect Privacy By Moving To R. Help Center. Privacy. Privacy Guide. Privacy Policy.
---