Journals
Molecular Ecology. Molecular Ecology Road Map The discipline of molecular ecology has undergone enormous changes since the journal bearing its name was launched approximately two decades ago.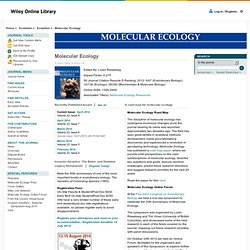 The field has seen great strides in analytical methods development, made groundbreaking discoveries and experienced a revolution in genotyping technology. Molecular Ecology has published a road map paper, where we provide brief perspectives on the main subdisciplines of molecular ecology, describe key questions and goals, discuss common challenges, predict future research directions and suggest research priorities for the next 20 years. Read the paper for free here. Oxford Journals | Life Sciences & Medicine | Molecular Biology and Evolution.
A Peer-Reviewed Open-Access Journal. The Mechanism of Gene Targeting in Human Somatic Cells One of the most promising tools for gene targeting in humans is recombinant adeno-associated virus (rAAV).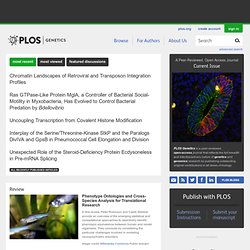 Yinan Kan and colleagues demonstrate that the normally single-stranded rAAV performs gene targeting via double-stranded intermediates, which are mechanistically indistinguishable from standard plasmid-mediated gene targeting. Image credit: Stew Dean Flickr CC-BY. Proceedings of the National Academy of Sciences. Genetics. Nature Publishing Group : science journals, jobs, and information. Science.
---