Software
Simulation. Opensource. Windows. Programming. Web. Productivity. Terminal. UNR. A lot of modern netbooks just work with Ubuntu Netbook remix.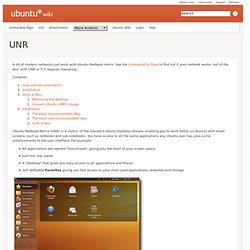 See the Compatibility Page to find out if your netbook works 'out of the box' with UNR or if it requires 'tweaking'. Ubuntu Netbook Remix (UNR) is a 'remix' of the standard Ubuntu Desktop release, enabling you to work better on devices with small screens, such as netbooks and sub-notebooks. NewsFire (for Mac OS X) Lab Tick. NSLU2-Linux - Main / HomePage browse.
Index of /pub/OpenOffice.org/MacOSX.
---