Software
UNR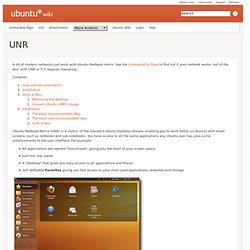 A lot of modern netbooks just work with Ubuntu Netbook remix. See the Compatibility Page to find out if your netbook works 'out of the box' with UNR or if it requires 'tweaking'. Ubuntu Netbook Remix (UNR) is a 'remix' of the standard Ubuntu Desktop release, enabling you to work better on devices with small screens, such as netbooks and sub-notebooks.
NewsFire (for Mac OS X)
Lab Tick
Have you ever been annoyed by your PowerBook's (or MacBook Pro's) backlit keyboard? You can not control it, you simply have to deal with the behaviour dictated by the ambient light sensor, which sometimes does not work really well. The idea of a backlit keyboard is awesome, but the implementation in Mac OS X has its flaws. Lab Tick aims to fix them. Latest version (0.9.4) - only 1.2 MB, and it's free!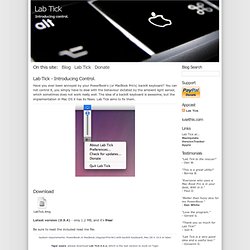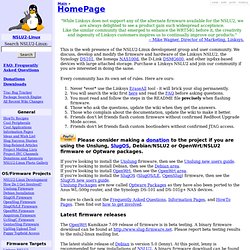 "While Linksys does not support any of the alternate firmware available for the NSLU2, we are always delighted to see a product gain such widespread acceptance.Like the similar community that emerged to enhance the WRT54G before it, the creativity and ingenuity of Linksys customers inspires us to continually improve our products." -- Mike Wagner, Director of Marketing, Linksys. This is the web presence of the NSLU2-Linux development group and user community. We discuss, develop and modify the firmware and hardware of the Linksys NSLU2, the Synology DS101, the Iomega NAS100d, the D-Link DSMG600, and other ixp4xx-based devices with large attached storage. Purchase a Linksys NSLU2 and join our community if you are interested in doing the same. Every community has its own set of rules.
Index of /pub/OpenOffice.org/MacOSX