Sciences
Ressources vulgarisation. Matériaux. Humour) Dernière mise à jour de cette page: 2014-04-06 20:47:55 Version: 3.3 Révision 8 vues depuis le 2012-01-01: 0 Si vous avez des histoires humoristiques dans le genre "scientifique" n'hésitez pas à nous les transmettre.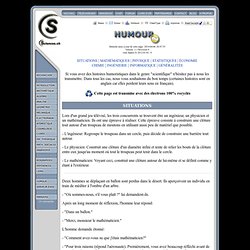 Dans tous les cas, nous vous souhaitons du bon temps (certaines histoires sont en anglais car elles perdent leurs sens en français). Blog. Webtv. Assos scientifiques. What Is Out There? - The Story of Science s01e01. Part 1 of 6. Du labo aux jeux vidéo : 20 serious games « scientifiques » L'alliance des jeux et des sciences s'est longtemps résumée à des QCM assommants.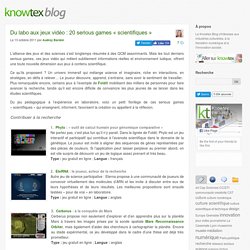 Mais les tout derniers serious games, ces jeux vidéo qui mêlent subtilement informations réelles et environnement ludique, offrent une toute nouvelle dimension aux jeux à contenu scientifique. Ce qu'ils proposent ? Science news and science jobs from New Scientist. La Réunion des CCSTI - Accueil.
Happy science. Science : La parodie du jour. Biology. Chemistry. Awards - Research Blogging. Seed Media Group's Research Blogging Awards honor the outstanding bloggers who discuss peer-reviewed research.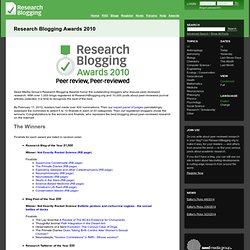 With over 1,000 blogs registered at ResearchBlogging.org and 10,000 posts about peer-reviewed journal articles collected, it is time to recognize the best of the best. By February 11, 2010, readers had made over 400 nominations. Then our expert panel of judges painstakingly assessed the nominees to select 5 to 10 finalists in each of 20 categories. Then our registered bloggers chose the winners. Congratulations to the winners and finalists, who represent the best blogging about peer-reviewed research on the Internet!
---