Sciences
Dernière mise à jour de cette page: 2014-04-06 20:47:55 Version: 3.3 Révision 8 vues depuis le 2012-01-01: 0 Si vous avez des histoires humoristiques dans le genre "scientifique" n'hésitez pas à nous les transmettre. Dans tous les cas, nous vous souhaitons du bon temps (certaines histoires sont en anglais car elles perdent leurs sens en français).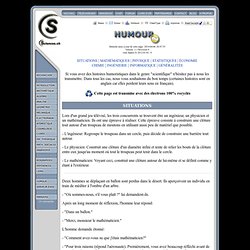 humour)
What Is Out There? - The Story of Science s01e01. Part 1 of 6
L'alliance des jeux et des sciences s'est longtemps résumée à des QCM assommants. Mais les tout derniers serious games, ces jeux vidéo qui mêlent subtilement informations réelles et environnement ludique, offrent une toute nouvelle dimension aux jeux à contenu scientifique. Ce qu'ils proposent ?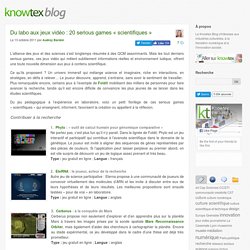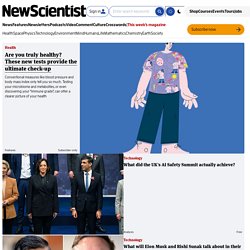 Cookies on the New Scientist website close Our website uses cookies, which are small text files that are widely used in order to make websites work more effectively. To continue using our website and consent to the use of cookies, click away from this box or click 'Close' Find out about our cookies and how to change them Log in
Les CCSTI en région Les CCSTI, sont des centres de médiation de Culture Scientifique Technique et Industrielle en partenariat avec le monde de la recherche, de l'éducation,des entreprises,et du secteur associatif . Ils jouent un rôle d'assembleur terrotorial avec l'aide des collectivités locales ,et dles structures nationales et internationales. Les Mardis de l'espace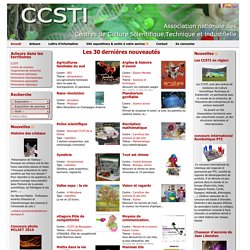 happy science
On my very first day at university I was queuing at the bank and in front of me was another female student waiting to open a bank account. One of the bank assistants came over and started filling the form in with her and he asked, "Are you Miss or Mrs"? neither, she replied, "I'm a Dr, I passed my PhD viva this morning".
Science : La parodie du jour
Seed Media Group's Research Blogging Awards honor the outstanding bloggers who discuss peer-reviewed research. With over 1,000 blogs registered at ResearchBlogging.org and 10,000 posts about peer-reviewed journal articles collected, it is time to recognize the best of the best. By February 11, 2010, readers had made over 400 nominations. Then our expert panel of judges painstakingly assessed the nominees to select 5 to 10 finalists in each of 20 categories. Then our registered bloggers chose the winners. Congratulations to the winners and finalists, who represent the best blogging about peer-reviewed research on the Internet!
Awards - Research Blogging