Sciences
Dernière mise à jour de cette page: 2013-12-16 11:35:31 Version: 3.3 Révision 8 vues depuis le 2012-01-01: 0 Si vous avez des histoires humoristiques dans le genre "scientifique" n'hésitez pas à nous les transmettre. Dans tous les cas, nous vous souhaitons du bon temps (certaines histoires sont en anglais car elles perdent leurs sens en français).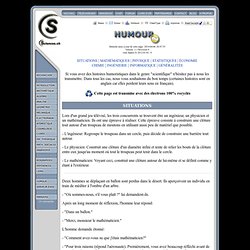 humour)
What Is Out There? - The Story of Science s01e01. Part 1 of 6
L'alliance des jeux et des sciences s'est longtemps résumée à des QCM assommants. Mais les tout derniers serious games, ces jeux vidéo qui mêlent subtilement informations réelles et environnement ludique, offrent une toute nouvelle dimension aux jeux à contenu scientifique. Ce qu'ils proposent ?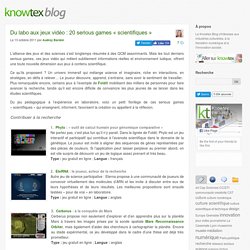 happy science
Science : La parodie du jour
Seed Media Group's Research Blogging Awards honor the outstanding bloggers who discuss peer-reviewed research. With over 1,000 blogs registered at ResearchBlogging.org and 10,000 posts about peer-reviewed journal articles collected, it is time to recognize the best of the best.
Awards - Research Blogging